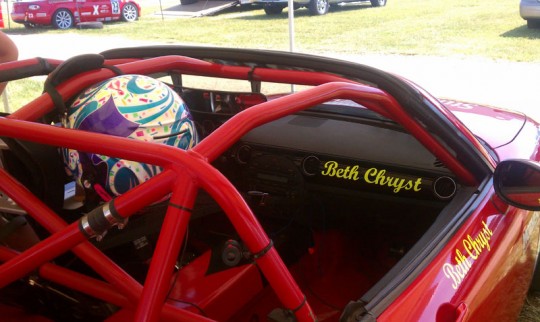 Although I haven't blogged in a while it surely doesn't mean I haven't been busy.  It has been a while and I have been traveling all over.  The summer is usually really full of racing for me whether I am going back to my roots and watching karting or I am racing myself.
Mid-Ohio was in the first part of June.  This was a race we ran with The Rolex Series.  The Playboy Mazda MX-5 Cup Series has not run at Mid-Ohio Sports Car course since the series debuted.  This is a facility I am very familiar with and have a win on that track from karting. The track has a few elevation changes and a pretty long back straight.  I really enjoyed our weekend there and was really happy with my practice times as I was about 10th or 11th overall.  Although I went into qualifying with high hopes due to all the tire laid down by the Continental Tire race that ran just prior to our qualifying, I qualified 16th.  I really was bummed and didn't understand what happened.  The car tightened up substantially with all the extra rubber laid down during the 2.5 hour race.  Discouraged but willing to keep digging Dad and I took a huge swing at the car.  Fortunately for the first time this year we had a morning warm up prior to our race.  This gave me the chance to figure out how our car was going to perform in the race.  I got my times back down to where I wanted them and was very optimistic about how the race would go.  Standing starts are a lot of fun but can at time be difficult.
The race came about an hour and a half later.  They set the grid releases the cars for the pace lap and then you are reset.   You can't always see the 5 second board so you rely on your crew.  In my case that is my father, he is the one who gives me this call.  You see the lights and once they got off you are racing!  A huge key on the standing starts with our car is not to have too much tire spin.  The more they spin the more work you have made for yourself.  I got a good start and was headed into turn one and down into the keyhole.  While cars were doing a bit of bouncing off each other, I was on the inside of a competitor.  While we are not sure who fault was whose (but both walked away without any bad feelings with each other) I had a competitor come across my nose and back off.  Although, I was able to continue the pack of cars I was in had pulled away just enough to make a lot of work for myself.  I was in a pack with a few Skip Barber cars (they start the same time we do) and was reeling in the pack we were chasing down.  After a few minor setbacks we can home with a 14th.  Overall I was happy with our performance.  I was much higher in the practice times and was really having fun.  Although, my results didn't show my speed I went home feeling good about my performance.  I really enjoy going to places I have raced at for 12 years.  It takes one big key step of being fast at a track right out of the equation.
Related Articles
Share
About Author