Courtesy of WhoWon.com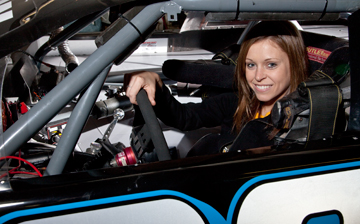 WISCONSIN DELLS, Wis. — When she started the 2011 season at Dells Raceway Park, it wasn't as though Kelsey Bauer was unfamiliar with Late Model racing. What she hadn't experienced, however, was the challenge a full season had in store.
Persevering through the challenges with the help of two veteran racers, Bauer topped the rookie class of Budweiser Late Models.
Bauer started the stock car racing portion of her career in Super Late Models at Slinger Speedway just a few seasons ago. Although she competed in what is considered a step up from the Late Model class, the 23 year old from Howards Grove did not participate in more than half of a season. She also did not compete at Dells Raceway Park until she moved to Late Models last season.
A couple visits to DRP toward the end of 2010 may have helped sway her to compete at Wisconsin's Showcase Short Track this season.
"I raced a few times at the Dells and really enjoyed it," Bauer said. "Even though I was a girl doing a man's sport everyone still welcomed me and were extremely nice when I came there. Everyone was willing to help; that made me want to come back."
The 14 scheduled events were more than twice as many events as Bauer had raced in any of her previous years of Late Model racing.
The move to the Late Models at DRP came with the aid of Travis Dassow, a past champion of the now-defunct ASA Late Model Series, and Frank Kreyer, a long time DRP veteran in the Super Late Models and 2011 Alive For Five Super Late Model Series Champion.
"It was a whole new experience," Bauer said of the 2011 season. "He and Travis have a lot of experience. Frank's chassis are set up just a little different than everyone else's. We had pretty good equipment and they know how to work together to make fast race cars."
Not only did Dassow and Kreyer provide and help maintain Bauer's racer, they were also on hand at every race event providing advice and changing setups. Bauer said she learned a lot from the mentorship of the two veteran racers. Their tutelage helped Bauer improve every week. She said she saw her greatest improvement in her qualifying efforts.
"This year was the first time I did well in qualifying. I never was a good qualifier," Bauer said. "Frank and Travis gave me the inside on how to take a different approach for qualifying as opposed to an actual race. I look forward to qualifying now whereas a couple years ago I hated qualifying."
Bauer's qualifying efforts were enough to clinch a berth in the Wegner Automotive Research Fast Dash Clash, which paid $2,000 to win. With three appearances and one dash win on July 9, Bauer claimed enough points to be the final driver to qualify into the elite 12-car race. However, she had a mechanical issue and dropped out early.
While her qualifying efforts we consistently fast each week, Bauer struggled in the main events. Her best finish came early in the season when she recorded a fifth-place finish on June 25. Over the next six races Bauer's best finish was 12th in the competitive field. She rounded out the season on an upslope with two top tens and a 12th-place finish in season standings.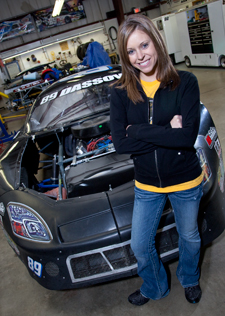 "In the beginning of the year I had three bad days where things just broke down," Bauer said. "I gained more confidence as the year went on. I was a little worried about rubbing in the beginning, because I didn't want to make enemies. Towards the middle of the season things got a little rough."
Bauer said she was in her share of scuffles this season, but she expected that as part of being a rookie and learning to keep up with the veterans. She said she was working all season to learn better car control – something she has been chasing since her first ever race.
"I just want to keep on improving," Bauer said. "It's the whole car control thing. When I got a little loose, I got nervous. My first race ever in a Late Model I got in a bad wreck and broke my wrist. I think I'm still kind of cautious on that, but I have to get over that."
Next season Bauer plans to jump back into a Super Late Model and compete in the five-race series at DRP. She will also try some new tracks as she looks to further her racing career. Although she vacates the role as the only female in the Late Models, Bauer sees the potential of her spot being filled by one of the female drivers in the support divisions at some point.
"We're so determined and doing what we love to do, that we don't even take into consideration what anyone says about us," Bauer said of the female drivers at DRP. "We just go out there and do our thing."
With her successes on the track, Bauer has also found success in pursuing her degree in Engineering at the University of Wisconsin-Milwaukee. She is a two-time recipient of the Alan Kulwicki Scholarship.
"I didn't think I would win this," she said. "I won it last year and thought they would give another student a chance. I'm pretty thankful for it." Bauer said she had to go through an interview process and the scholarship nearly covers her entire tuition cost.
Bauer's crew consisted of the Kreyer family, Dassow Family, Russ and Mike.
In 2011 she was sponsored by CMS, Fischer Fleet Services, Renk Seed, TD Graphics, Fastenal of Plymouth, Premier Insurance Solutions, and SRJJ Truckand Auto.
Related Articles
Share
About Author