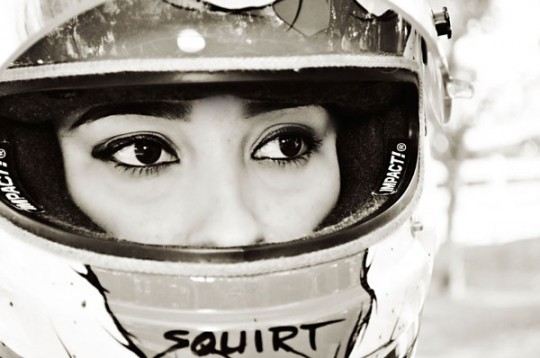 Lake Havasu City, AZ. April 6, 2012- RiverCitiesNightOut.com is proud to sponsor Cassie Gannis, Sunoco Rookie of the Year Candidate, and driver for #01 NASCAR K&N Pro Series West Quick Lane @ San Tan/Majerle's Sports Grill/Itxdeals.com FORD during the Toyota Napa Auto Parts 150, at Havasu 95 Speedway, at SARA Park, on April 14th, 2012. The race will be televised nationally on the SPEED Network. The race will cap two days of auto racing activity that weekend. It starts with the NASCAR haulers parade, Friday afternoon. April 14, 2012 – NASCAR K&N Pro Series West Cars, Gene Price Late Models, Gene Price Legends, Sam Nichols Bandoleros, the Goose Team Factory, and Factory Stocks will race.  On Saturday a field of 24 NASCAR K&N Pro Series West cars will hit the track for the Toyota Napa Auto Parts 150 with a 6 p.m. start. General admission is $30, children 15-years-old and younger are $15 and children 5-years-old and younger are free.

Cassie Gannis will return with GSR Racing for a full season in the NASCAR K&N Pro Series West this year and make a run for Sunoco Rookie of the Year honors, the team has announced. Gannis, 20, has been a standout since she decided to hit the tracks at age 10, consistently placing in the top five in the Quarter Midget Racing. She owns the 2003 Arizona State Championship in the Bandolero Series and 2005 Rookie of the Year in the Legend Series. She is a Graduate of the Lyn St. James Driver Development Academy and a passionate speaker on teen driving safety issues on behalf of the Boys and Girls Clubs of Arizona, the CHP Designated Drivers Program, AAA of Southern California, Driving MBA, and Community Tires of Arizona. Gannis is currently working for Rusty Wallace Racing Experience as a Professional Racecar Driver providing ride-alongs for corporate clients and team building exercises. Gannis speaks professionally on radio and TV about all things NASCAR. For three years in a row she became one of 30 drivers nation-wide chosen to compete in the Drive for Diversity Combine in Charlotte, N.C. As part of the 2010 Drive for Diversity Combine, she became part of the "Changing Lanes" television series on the BET Network. Her website is CassieGannisRacing.com
Cassie Gannis Scheduled Appearances in Havasu for NASCAR K&N Pro Series West:
Thursday, April 12: 6:00 to 9:00 p.m. 
"MEET & GREET" with Cassie – Jake's Bar and Grill
3453 Maricopa Ave Lake Havasu City, AZ 86406
"So excited to bring my #01 NASCAR K&N Pro Series West black and yellow Ford Fusion to Havasu! Short tracks are my specialty. The competition should be ferce. Look for the itxtdeals.com car to be at Jakes Thursday evening and me signing autographs!" – Cassie Gannis
Friday, April 13: 2:00 to 3:00 p.m. 
"DRIVER'S AUTOGRAPH SESSION" – Kokomo's at London Bridge Resort
1477 Queens Bay Lake Havasu City, AZ
Friday, April 13: 3:00 p.m.
"NASCAR K&N Pro Series West Hauler Parade" - Dillard's
Starting Point: Dillard's – 5501 Hwy. 95 N., Lake Havasu City, AZ 86404
Depart from Dillard's at 3:00 p.m.
Head Southeast toward AZ-95 N: Go 0.1 mile
Turn right onto AZ-95 S: Go 13.3 miles
Turn right onto Sara Pkwy: Go 0.1 mile
Destination: Havasu 95 Speedway, 7260 SARA Parkway, Lake Havasu City, AZ 86406
"RiverCitiesNightOut.comis very proud to be a sponsor for Cassie and her #01 Ford Fusion car during her visit to KOKOMO's and Jakes Bar & Grill in Havasu." Lisa Hernandez, co-owner and social media director for RiverCitiesNightOut.com states, "We are looking forward to a great turn out from our local Havasu NASCAR race fans!"
RiverCitiesNightOut.com is your premier nightlife search engine and event calendar of local restaurants, bars, entertainment, bands, and hotels in Lake Havasu, Laughlin, Paker, Bullhead City and Kingman.
GSR Racing is owned by driver Greg Rayl out of El Dorado Hills, California (http://www.gsrracing.com). Greg made his NASCAR K&N Pro Series West debut in 2008 at hometown track, All American Speedway in Roseville, CA.
Tickets available at these locations…
Bill McAnally Racing 916-676-0100  www.billmcanallyracing.com
Gene Price Racing 928-667-2626  heidi@genepricemotorsports.com
ASAP Digital Printing 928-854-8999
Contacts:
Lisa Hernandez
928-380-5200
lisa@rivercitiesnightout.com
Kathy Gannis
Related Articles
Share
About Author