Courtesy of JenniferJoCobb.com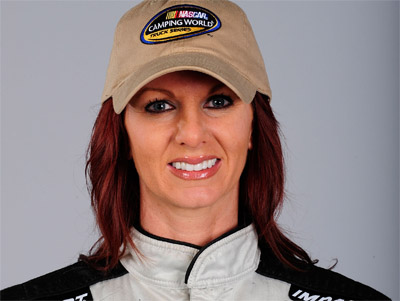 Prepared for Harder Elements, Needs to Focus on What's Easy
MOORESVILLE, N.C. (August 10, 2010) – For the first time since 2004, The NASCAR Camping World Truck Series will compete at Darlington Raceway in the Too Tough to Tame 200. Jennifer Jo Cobb has heard all of the intimidating phrases associated with the racetrack. "The Lady in Black," "Too Tough to Tame" and "Darlington Stripes" have all served warning to the Kansas City, Kan., native. Despite their daunting presence, Cobb isn't letting them frighten her. Cobb is using them as motivation that she hopes will help her meet the challenge of navigating the 1.366-mile historical track.
Darlington appears to be a venue that will play into Cobb's No. 10 Driven team's strengths. Tracks one to two miles in length, like Darlington Raceway, are the team's sweet spot. In NASCAR Camping World Truck Series competition, Cobb's best finish came at an intermediate track, scoring 14th-place at Texas Motor Speedway this season.
Cobb Comments on Too Tough to Tame 200:
"I'm extremely excited about Darlington. I'm the kind of person that needs a little pressure to motivate me. I need something to challenge me. I'm that type of personality where I need a little boost, a little nervousness, a little bit of edge. I've heard veterans describe how tough it is to learn the track. I've seen some of the best drivers get sucked into the wall. No doubt it's going to be tough, so I definitely have the pressure on me. I'm really looking forward to it. I think we'll excel there. I think we're going to be more focused and determined than ever because we know it's a tough challenge ahead.
"Steve (Kuykendall, crew chief) does such a good job getting our truck to roll through the center of the corners. When it comes to setting up our truck, we miss some of the simple things, but we got the harder stuff down. I think the way we've gotten our truck to handle at other tracks will be just what we're looking for at Darlington. I think we're going to have it down. I really do.
"When we were at Indy (O'Reilly Raceway Park) I came off the turn and shot up towards the wall. I asked if it was anything like Darlington. Rick Crawford was spotting for me and he said that it was nothing like Darlington. But doing that at ORP gave me confidence going into Darlington. I feel good about being in the second lane and driving off the corner and shooting towards the wall. I have a feeling that Darlington will be similar, but much more exciting."
Related Articles
Share
About Author