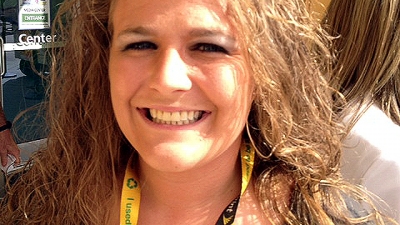 She is a Wallace. Therefore she races.
It's almost that simple.
Chrissy Wallace is the 23-year-old daughter of Mike Wallace. Mike is one of three Midwestern brothers – along with Rusty and Kenny – who rolled south to score varying levels of success in NASCAR. His two brothers now represent the sedate side (Rusty) and the animated side (Kenny) of racing television.
Before them, there was Russ, the recently deceased family patriarch who started the whole Wallace racing thing and had mild success while giving his sons a foundation upon which to build.
Chrissy is the latest to try to turn four wheels into fame and dollars. This all might have seemed a passing fancy in her teenage years, but she's quite serious about it. She gave up a college softball scholarship to make a go at running in circles.
Despite proving her abilities at lower levels, and despite an effervescent personality that makes her instantly the star of the room, Wallace is finding the going difficult as she tries to gain a foothold either at the lower rungs of NASCAR or in the wide open spaces of ARCA.
The problem is the pox that has hit many – from the mighty to the minors. Sponsorship money. Or, more accurately, the lack of it.
"It frustrates me more than anything," Wallace said. "Four or five years ago, it was about who had the most talent. Now it's about who has the biggest checkbook. I feel that I have the talent and the people around me to help me get there, but, at the same time, with the way the economy is, it's hard to find the sponsorship.
"I think a lot of sponsors are holding back trying to figure out what their best options are and who to go with."
Here's what Wallace and her older sister, Lindsay, who puts together Team Wallace proposals, have to sell: A driver who outran a bunch of males – some of them grumpy – to win seven of 21 races and the Late Model championship this season at Lebanon I-44 Speedway in Missouri. A driver with experience in the Nationwide and Camping World Truck series. A sharp spokesperson. An attractive woman.
And a racer.
"I was 17 when I really decided this is what I wanted to do," Wallace said. She had raced Legends and Bandoleros cars and go-carts, but she was fascinated when she moved on to bigger tracks and bigger cars.
"Once I got into the big cars and started beating the guys involved in NASCAR, I thought, 'If I'm beating them here, I know I have the talent to go to other levels and win.'
"For the past five years, my heart and mind have been completely toward racing. This is what I truly want. I want to win the championships in the Truck and Nationwide series and go on to Sprint Cup and be the first to win a race and a championship."
That, of course, would find her running past another racing female of note – Danica Patrick. Boosted by driving talent, a long resume and a willingness to be at the center of some provocative advertising campaigns, Patrick will run full-time in the Nationwide Series next season.
Patrick attracts attention on a grand scale – one outsized in relation to her accomplishments, some say. But she has opened the door for the discussion of the entry of more females into the top levels of NASCAR racing. Has it helped drivers like Wallace?
"I really don't think it's helped me whatsoever," she said. "She made her name with Godaddy (sponsor), and it might help a lot of sponsors to see that, might help to get a foot in the door. But I really don't think her being here has helped me out.
"No offense to Danica. I like her. She's a very good driver. I think she has a right mindset. But I feel like I'm a little better. I'd like to get a sponsor and compete against her and see who can win the first race as a female."
Mike Wallace, who put the family crest back in the winner's circle this year in the Truck series, is not the most impartial judge in this situation, being the father. But he said he sees more than just potential in Chrissy's corner.
"She's still just a little girl," he said. "She won seven of 20 races this year and took a lot of crap from a bunch of guys who couldn't believe she outran them. It took a lot of dedication. It wasn't an easy thing. She flew back and forth to St. Louis (from the Wallace home near Charlotte, N.C.) about every week.
"I'm way impressed – as impressed with the dedication it took to do it. Take 20 weeks and try to prove to people what you're capable of doing. She wants to race. I think she has a real deserving talent level. She understands the sport because she grew up around it. She's a very poor loser right now. And I say that in a very positive way."
Wallace said Chrissy ran the entire season at I-44 with one car and no spare parts.
"That's probably the most impressive part, that she ran one car all year with all the practice, qualifying, heat races and features and didn't replace a part all year long," he said. "I felt bad for her being out there. My wife told me that you couldn't believe the abuse she took from some of the men. It was so disrespectful. But she wore some very combative T-shirts that helped her deal with it some.
"I tried to convince her early on that this wasn't something she wanted to do, but then she was winning races at each level, and she convinced me it was something she wanted to do."
Chrissy became the first woman to win a Late Model race at Hickory Speedway (in June 2007), ran a total of seven Truck races over the 2008 and 2009 seasons and ran two Nationwide races last year. She has a top finish of 13th in trucks and 24th in Nationwide.
Wallace lives with her parents, has a street car that's paid for and made enough money this year to keep the sponsor search alive. She hopes to run full-time in the Truck series or ARCA next year if the right situation develops. If not, she plans to return to Lebanon and run Late Models there again.
It can be a long road. Even for a Wallace.
Related Articles
Share
About Author