[Source: Yahoo!]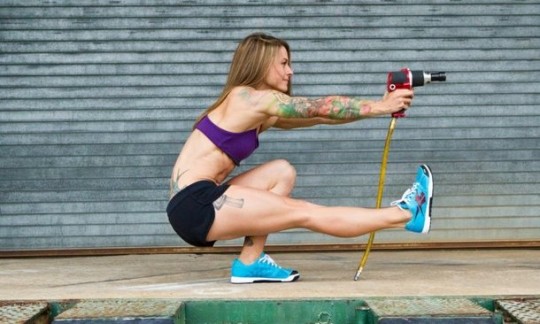 DAVIDSON, N.C. – The laws of physics explain why there aren't any female members of a NASCAR pit crew: The average woman of 5-4 weighs around 130 pounds, and the average racing tire weighs between 55 and 70 pounds. So physics explains a woman of average size would have to lift and move half her weight – twice – and bolt two tires in 12 seconds or less to succeed in a NASCAR pit.
Physics never met Christmas Abbott.
Physics never visited her house, saw the lug nuts on her kitchen counter, or stumbled across the air gun and wheel-and-axle set outside her bedroom. Physics never saw her garage, filled not with an automobile but with barbells and plates on top of plates. Physics never saw her lift a 70-pound barbell and leave it to rest on her shoulders like it's a winter shawl.
Danica Patrick is a badass, but the 5-3, 115-pound Christmas Abbott makes her look like a hand model. Abbott, 31, has a gun tattooed on her hip to remind her of time she spent in Iraq. She can squat 255 pounds "currently," which means it'll probably be 275 by the time you read this. And her newest pursuit – trying to make her way in one of the most male-dominated places in all of sports – is actually not as physically grueling as her day job. Auto racing might have a new sex symbol, but her life to this point has been built with true grit.
Last week, Abbott inked a deal to serve on a NASCAR pit crew in the Camping World Truck Series, where she'll change tires for driver Jennifer Jo Cobb. That means she'll be expected to whip around the No. 10 Ford with an air gun in hand, unbolt five lug nuts, rip a 60-pound tire off the car, bolt on a new one, then repeat it again on the other side all in about 12 seconds. She also will be in Clint Bowyer's pit for Sunday's Daytona 500, where she'll shadow the Michael Waltrip Racing crew in anticipation of a potential future "over the wall" assignment.
But the question isn't whether Christmas Abbott has what it takes to survive in the pits. She's been in more dangerous, more daunting spots. It's whether she can thrive there.
"I have to get dirty and [travel] overnight," Abbott said about diving into a year-long Truck Series schedule. "NASCAR fans are die-hard and they will call out your B.S. I want to go to the highest level, and I left three jobs to do [this] one."
The first sign came when she was a little girl in Virginia who wanted to play baseball. This wasn't because she wanted to beat the boys; she had small hands that made it hard to hold a softball. There was a problem, however, as there often is when girls try to play on boys teams: Christmas Abbott wasn't allowed.
So her mom, Barbara Nichols, who named her second daughter Christmas because she was born in late December, got on the phone with the league organizer. Christmas remembers the look on her face when she heard her daughter would have to wear a cup. That was a bluff, and Mom was not falling for it. She yelled back into the phone: "She'll wear a steel bra, too!"
Christmas was 10.
She joined the team – after her mom threatened to bring local news trucks with her to the baseball diamond. Christmas didn't have to wear a cup. Or a steel bra. But the other teams weren't happy to see her. "They chucked the ball at me," she says now, with a laugh. "A lot."
Her toughness comes from her grandmother, who moved to the U.S. from Germany with her husband after the Korean War and didn't understand why people were shunning Germans like her. "She taught us to turn the other cheek," Christmas says. She grew up worshiping the women in her family, and she still does. "I come from an incredible heritage of women," Abbott says.
Related Articles
Share
About Author