Courtesy of Tim Tuttle for SI.com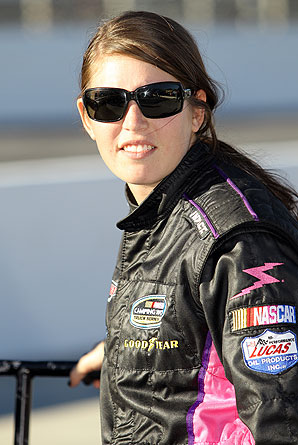 Shawna Robinson, in 2002, was the last woman to race in Sprint Cup, closing out an eight-race Cup career with a 24th place finish in the July race at Daytona. Danica Patrick will likely be the next female in Cup, perhaps next year depending upon how her partial Nationwide season with JR Motorsports goes.
There are plenty more in development stages, including Jennifer Jo Cobb. She ran the entire 25-race Camping World Truck Series in 2010, finishing 17th in the points.
NASCAR wants and needs a female driver in Cup. You can look at the excitement and television ratings, and probably ticket sales, that Patrick's IndyCar resume brought to Nationwide this season and know that a female who can really drive — pass people, run at the front, compete to win races — is a valuable marketing tool. Patrick passed cars this year, but wasn't close to running in the top 10. Imagine what it would mean to have a female who could.
Write down the name Johanna Long. She's several years away, but everything she's done so far points to her being NASCAR's best prospect for long-term success in Cup.
Long closed out 2010 on Dec. 5 with a victory in the Snowball Derby, the nation's most prestigious Super Late Model race. Former winners include Kyle Busch in 2009, Donnie Allison in 1975 and Darrell Waltrip in 1976. Cup drivers in this year's race included David Ragan, David Stremme and Landon Cassill, and she beat top male prospects Chase Elliott, son of Bill Elliott, and Ross Kenseth, son of Matt Kenseth.
Tammy Jo Kirk won the Snowball, too, in 1994, the only previous female to do it. Kirk became the first woman to drive in NASCAR's Trucks series, making 32 starts in 1997 and 1998 and drove in 15 Nationwide races in 2003. She didn't have a top 10 in either series and never made it to Cup. It's part of the race's history, but is irrelevant to Long's future. They are different drivers with different backgrounds at different stages of their careers.
Kirk had raced motorcycles and was a regular in NASCAR's All-Pro Series, which included the Snowball in 1994, when she was 32. Long is 18 and has been winning short-track stock car races since she was 16. The Snowball was the pinnacle of Kirk's career. It's a line of demarcation for Long.
"It just means a lot for me as a person because it's the biggest short track race in the country," Long said. "It was so emotional for me, in my backyard with my family here, and so many big names have won the Snowball Derby, so hopefully, it opened some eyes and opened some doors. I think I've proved myself. It definitely couldn't hurt me."
Long made a late stop for tires and passed six cars in the final five laps to win the Snowball, which was run at Five Flags Speedway in Pensacola, Fla., her hometown track. Long won the Pro Late Model championship there in 2008 and the track's top-level Blizzard Series in 2009, but she's no one-track wonder. Long has also won late model races at Mobile International Speedway and South Alabama Speedway.
Long ventured into NASCAR in 2010, driving in seven Trucks races. She was 17th in her first race at O'Reilly Raceway Park at Indianapolis. It was a program designed to prepare her for next year's Truck series, where she hopes to run the entire season with the goal of becoming Rookie of the Year.
Daytona is the Trucks' opener and NASCAR has a stringent approval process to race there. Drivers start on short tracks like ORP and then have to prove themselves on the 1.5-mile tracks to be approved for Daytona.
"When we picked our races, we picked them to get approved for Daytona," Long said. "NASCAR wants you to complete two mile-and-a halves before you can run Daytona."
Long ran to a 20th-place finish at Chicagoland, but a mechanical failure at Las Vegas and an accident at Texas took her out very early. Her last chance was Homestead-Miami, where she finished 20th and on the lead lap.
"I had to do really good at Homestead-Miami," Long said. "I'm really excited to be able to do Daytona."
Long drove the opening three Truck races in Billy Ballew Motorsports' No. 15 Toyota. When Ballew shut the team down, her family-owned late model team –run by father, Donald — purchased some Toyotas from Kyle Busch's team and hired some of Ballew's crew to augment their existing personnel and ran the final four races of the Truck season.
Among those who signed on from Ballew was Cowboy Starland, a veteran Truck series crew chief whose career included calling the shots on the Roush Fenway trucks for Carl Edwards and Greg Biffle. Starland has also signed on for 2011 with Long.
"It's very surprising how much car control she has," Starland said. "It's absolutely important. You've got to have control of what you're driving so it doesn't have control of you. She's impressed me. She's got talent and is pretty amazing as far as being an 18-year-old girl. With each race she gets more comfortable.
"The trucks are harder to drive than the late models. You've got o have more finesse and the speeds are much higher. She just needs more [truck] races."
Starland was also Long's crew chief for her Snowball win.
"It's the biggest short track race you can win," he said. "People that have tried to win it and haven't is a big list. We need to build on that momentum. It couldn't have come at a better time. We got what we needed and what she needed. You've got to have that confidence."
Starland sees some of the same characteristics in Long that he saw in Edwards and Biffle.
"They all have that same hunger, they want to do well and that's what you need," Starland said. "They ask a lot of questions."
Starland believes Long can make it to Cup.
"Absolutely," he said. "She's relentless. She's got what it takes, no doubt about it."
Daytona will be critical to Long's season. She has to qualify for the race on time in what is traditionally the largest entry of the year. It's also the premier lure for sponsors and the largest purse.
"We're gong to race as many truck races as we can," Long said. "It depends on how Daytona goes. If it goes really good, we'll try to run the whole season."
Long understands the challenge of the years ahead. She excited about meeting them.
"I started racing go-karts when I was five," Long said. "All I've ever dreamed about is going fast. I've been around racing (her father was a long-time late model driver) since I've been a little girl. It's in my blood.
"I want to go the farthest I can go, do the best I can and keep moving forward and one day make it to the highest level. It's not going to be easy."
Read more: http://sportsillustrated.cnn.com/2010/writers/tim_tuttle/12/16/Johanna.Long/index.html#ixzz18khuMCKM
Related Articles
Share
About Author