Courtesy of STLToday.com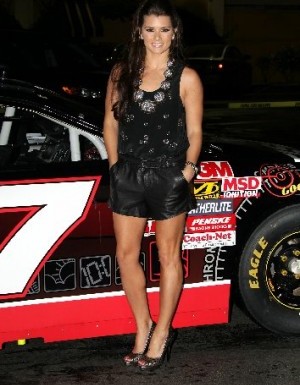 Danica Patrick has gone from high school cheerleader to the most recognizable face in motor sports.
Patrick, 28, who formerly lived in Roscoe, Ill., a northern suburb of Rockford, was a cheerleader at Hononegah High in Rockton, Ill., in 1996 and had been racing for a few years.
After trying several sports, she settled on racing, and that's what brings her to Gateway International Raceway on Saturday for the NASCAR Nationwide Series 5-Hour Energy 250. The green flag will fly at 2:40 p.m. It will be Patrick's only appearance of the year at GIR.
"Everybody finds something that they're good at, or at least they should (find something)," Patrick said in a phone interview Tuesday while touting her national involvement with chronic obstructive pulmonary disease, a lung disease that took the life of Patrick's grandmother some eight years ago.
"Everybody has something inside of them that nobody else does," Patrick said. "It's about finding that and using that. I was lucky that my parents (T.J. and Bev Patrick) let me try every sport."
Patrick, who lives in Scottsdale, Ariz., said she participated in everything from volleyball to basketball to tumbling and track.
"It wasn't like racing was the only thing I did," she said. "I tried everything, and my parents were really open-minded about it."
While she did admit that she wasn't good at tumbling, her basketball prowess was a different story.
"I was a vicious basketball player. I was pretty ruthless out there," she said. "Obviously being very short (5 feet 2), I was the point guard. I'm an athlete and I'm coordinated, so I've been able to do what I've put my mind to do that's at least reasonable."
That includes racing. Patrick has been in just about every discipline of racing, and she's most famous for her participation in the Izod IndyCar Series. In 2008, she became the first woman in IndyCar history to win a race — in Japan. She has led laps in the Indianapolis 500, where in 2005 she was rookie of the year as well as the series rookie of the year.
This season she wound up 10th in the series' points and is now trying to show everybody she's capable of handling a 3,300-pound race car in the NASCAR Nationwide Series, where she's driving a part-time schedule for JR Motorsports and will be in the bright green, orange and black No. 7 Chevolet Impala.
It's no secret she has struggled while racing nine times in this series this season. She has crashed three times but recorded her best finish of the season last week at Charlotte, where she finished 21st.
"It's all very new to me," Patrick said of her short time in NASCAR. "I'm not just a rookie in the Nationwide Series. I'm a rookie all around. I didn't race any other kind of stock car. It's learning about these cars. Learning how they work. What you need in the car to go fast and be fast in a whole race, not just a lap.
"It's fairly early on. I need to remind myself to not be so hard on myself. People tell me to not be so hard on myself."
Which is tough for Patrick because of her competitive nature. She's got one of the best crew chiefs in NASCAR in Tony Eury Jr., and she knows she's not going to conquer the sport overnight.
"It's hard to be patient," she said. "But it's realistic. That's the thing. You're either born with competitiveness or you're not."
While it has been hard for women to break the gender barrier in NASCAR, Patrick says there's a reason for that.
"When you look at how many guys it takes to find a good (racer), it's easy because there's so many," said Patrick, who is the only woman among the 49 entries for Saturday's race. "It takes a long time to come across women race car drivers. It's just that there's less of us."
As the only female entry for the race, there will be plenty of fans rooting for Patrick, who has never seen Gateway's unique layout.
"There are a lot of tracks I haven't seen," she said. "I'm going to a lot of tracks for the first time this year. But it's a track you need to learn, and that's all there is to it."
Related Articles
Share
About Author