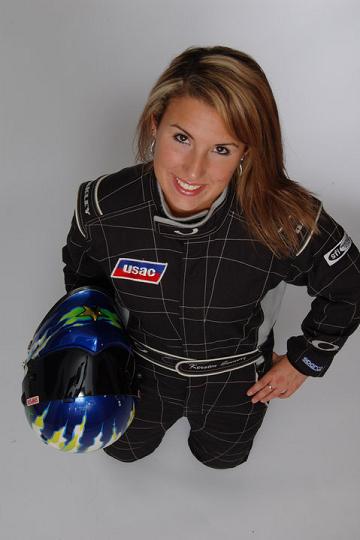 I am excited to have the opportunity to write a blog for femaleracingnews.com! I am looking forward to writing some intriguing blog articles and I hope you all enjoy it. For now I would like to introduce myself , my name is Kerstin Smutny, I am 20 years old and have been racing for almost 14 years. I starts racing in Quarter Midgets around the Seattle area, where I grew up. I raced just about
every class in Quarter Midgets and attended races all around the country, meeting great friends, and creating a base for my racing career.
Towards the end of my Quarter Midget career I started doing some shifter kart racing to get road racing experience. From there at the age of fifteen, I had the opportunity to test my first Formula car. It was a Formula TR 1600 (Renault) car at Willow Springs in California. The next couple of race seasons would be spent in the F1600 with some various Formula BMW testing. I was invited to the 2005
Formula BMW USA Scholarship and Licensing Course in Valencia, Spain.
After immersing myself into the road racing world in 2006 and 2007 I made the start of my transition back to oval racing with a season in USAC Midgets in 2008. The following season presented its self with an opportunity to be a factory driver for Volkswagen in the Jetta TDI Cup series which I could not turn down. I had the chance to race at some of the most prestigious race tracks in the United States
and, Canada. After the brief season back in road racing I decided to solidify my decision to embark on the NASCAR racing path. I did my first Late Model test and race this past Fall, and plan race Late Models in 2011.
I have just moved to Charlotte, NC from Las Vegas to be closer to the racing action, and so far I am loving it. I am looking forward to the great adventures and opportunities to come!
Be safe out there!
Until next time,
Kerstin
Related Articles
Share
About Author