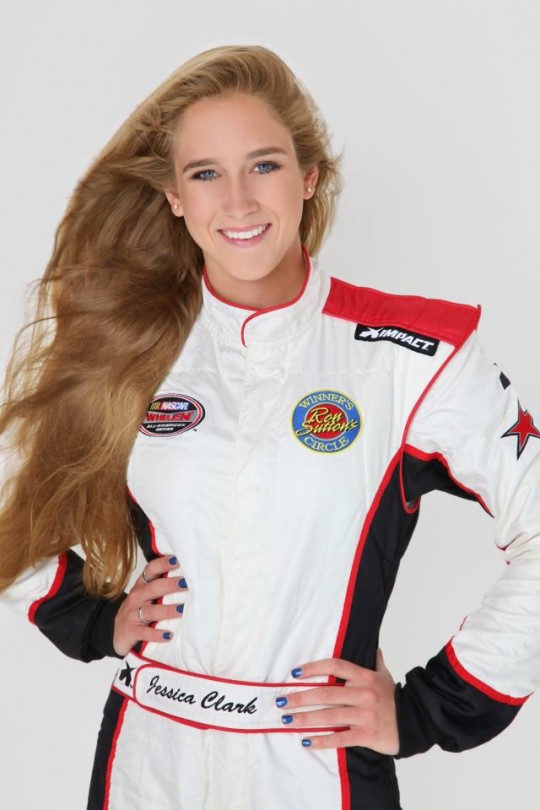 The 2012 racing season has finally arrived! I'm happy to announce that I'll be racing a Grand American Modified in the NASCAR Whelen series for Ron Sutton's Winners Circle Racing Team (RSWC). It's an incredibly powerful stock car with  a 383 small block Chevy. It runs on methanol and  cranks out just under 500 horsepower. It's a beast!  I'll be running the Allstar Performance #7 car. My colors have changed to white, black, and red. It's not  going to be easy to keep my beautiful new driver suit  clean! As of now, I'll be completing about two-thirds of the season. If more funding becomes  available, I'll add more races. I also intend to spend some time in the midwest this summer  racing a dirt modified with my former crew member, Russell Hunt.
During the past several months I dedicated myself to the "business" side of racing and forged  new relationships. Without these relationships, and the personal interest of some very special people, I wouldn't be able to pursue my dream. For that, I am most grateful! I look forward  to helping these individuals promote their businesses through my racing and social networking activity this year. My primary sponsors for 2012 are Star Racing Supply and Allstar Performance. Star Racing Supply provides everything you need for your racing team and Allstar Performance makes one of a kind parts for your racecar.
Several product/service sponsors are also joining Jessica Clark Racing in 2012. When I was at the Performance Racing Industry show in Florida back in December, I met Kelli Willmore, VP of marketing for IMPACT race products. She generously provided me with a custom fire suit, which I really needed. The incredible graphics on the car and crew shirts have been designed  and manufactured by Eric Alton, owner/operator of PitImage. Among other things, this company creates uniform apparel for both NASCAR and INDY teams, and I'm  fortunate to be their first sponsored driver. Total Woman Gym and Day Spa  continues to provide me a place to develop my core fitness.
Social networking will play a major role in keeping people informed about my journey on the track in 2012. Along with tweeting and my blog, Driven, I'll be blogging for Female Racing News and continue as a guest columnist for Hotrodhotline.com. I'll send out monthly newsletters with photos, as well. I have one more thing to share with you all. I was selected as one of the Race4Girls featured drivers for 2012. Race4Girls is committed to helping female drivers become more successful  on and off the track. Fans of racing who want to support female drivers can visit  Race4Girls.com and purchase apparel or make contributions. The drivers receive 100% of the  donations. Since rain delayed my On Track Training weekends with Gord Bentley and Eric Holmes, I'll describe that experience in my next newsletter. I'll also be able to tell you all about my first race.
Thanks for joining me in the 2012 chapter of Jessica Clark Racing.
Related Articles
Share
About Author