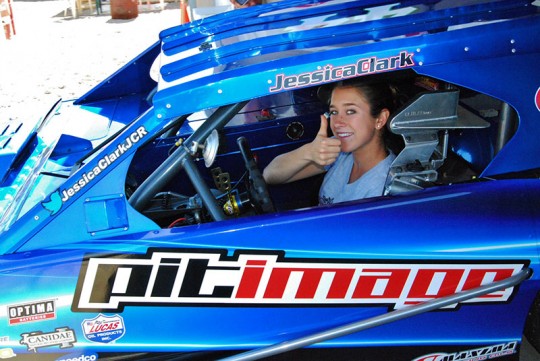 This weekend I had my first race in the Lucas Oil Modified Series at Havasu 95 Speedway!
I had quick time in practice on Friday evening and my crew and I were confident going into race day!  The car was loose for the majority of practice on Saturday but I was still in the top five on the board.  I asked my crew to tighten up the car for qualifying and it ended up being too tight.  I qualified 13th out of 34 cars (not exactly what I was hoping for but…  I achieved my goal of qualifying straight into the A main!) 22 cars started the 100 lap feature.  I was hanging in there with that pack when lap 16 rolled around and my power steering belt broke.  I muscled the car around for four laps and  then we got a caution.  Once we were going slow I could no longer turn the car so I had to bring it in to the pits to have it repaired.  My crew got it fixed as fast as they possibly could and sent me back out to the track.  Unfortunately, I was two or three laps down due to the mechanical failure.  I wasn't going to let that stop me from getting in some good racing though!  I drove my car from the back of the pack up to 8th place but since I was a couple laps down they placed me in 18th.  The results weren't what we had hoped for, however, I had a great experience getting the chance to pass so many cars and complete my first 100 lap race (more or less…98 laps really).  We have high hopes for our upcoming race at the I-10 Speedway in Blythe on April 6th.
I would like to thank Jimmy Dickerson, Steve Teets, Tedd Barnes, Austin Barnes, my Dad and Mom for all the hard work and support this weekend!
Also, big thanks to Pit Image for providing me with the hottest race car on the track, K&N filters, Maxima Racing Oil, Race4Girls, Beachside Crossfit, Third Point Productions, and RMG!
Keep up with Jessica!
http://jessicaclarkracing.com/
Related Articles
Share
About Author