NextEra Energy Resourcs 250
Daytona, FL – February 20, 2011- Johanna Long took another step forward in her quickly acceleterating NASCAR Camping World Truck Series Rookie career Friday night at Daytona International Speedway.  Despite being taken out of the running due a 14-car pileup in turn one after 74 laps, the youngest driver in the Series ran as high as fourth position and started the race fifth. 
 
The start marked her second top-10 NCWTS qualifying in the last three races she's run (the other being an eighth-fastest qualifying in Texas in November 2010). 
Race Notes
Long's No. 20 Panhandle Grading Toyota Tundra was running in the top 10 for 11 laps and "felt good" when she radioed in to crew chief Cowboy Starland – even with track positioning moving trucks like a chess match from lap one. At lap 11, Long conservatively began moving positions to the back of the field for a series of laps – a common race strategy this year, adopted by the No. 20 team to help "avoid the big one" and also let Long practice her drafting at her first-ever appearance at the 2.5-mile superspeedway.

"It felt great to run in the top 10 for as long as I did," said Long. "I was really in a groove there, and it was less scary than I thought it would be.  I knew I needed to stay conservative and cautious – after all, it is Daytona – so it was crucial for me to get mid-pack within the first twenty laps or so to settle in and get comfortable.  That way, when it came for the last charge with 20 or so to go, I'd hopefully be comfortable drafting with a partner back up to the front."
Along with Starland, the No. 20 team worked to dial in the handling over the course of two pit stops – one at lap 37, another at lap 53, both under the first two  of six race cautions. At the midpoint of the race's 100 laps, Long was in 32nd position and learning the draft with nearby competitors when an accident in turn one caught Long and the No. 20 in the night's official "big one."
Long was primed to pick up additional positions in the last quarter of the race, but on lap 74, however, a chain reaction accident in turn one ended up taking out 14 trucks from the field.  Long was ready to avoid the accident, but a competitor missed the cue to slow and ran into the back of her – pushing the No. 20 truck into others in the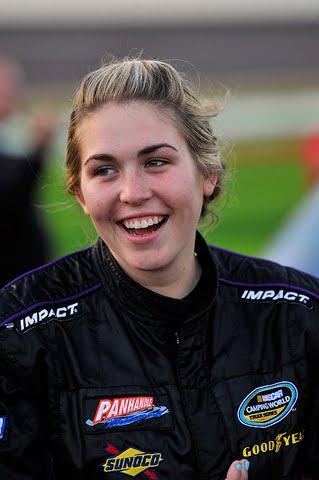 surrounding territory. Long brought the truck in for servicing, but the damage was deemed too significant by the Officials to remain on track.  The night ended for the No. 20 with 26 laps to go.
Final Thoughts – Johanna Long
 "The truck was good at the start, and I'm just really disappointed for my guys.  This was unfortunate, and we really had a shot at getting back up in the top 15 for my first Daytona experience.  They worked so hard in the shop, and it showed how much dedication they put in with limited resources.  That top 5 start meant more than you'll know to us. I'm really excited about how far we've come already though – and this was the luck of the draw. I learned so much this week from so many people, and my confidence is really up going into the season. We're gaining really great momentum on the team for the year – and now we'll move on to Phoenix. I can't wait to get there."
Related Articles
Share
About Author