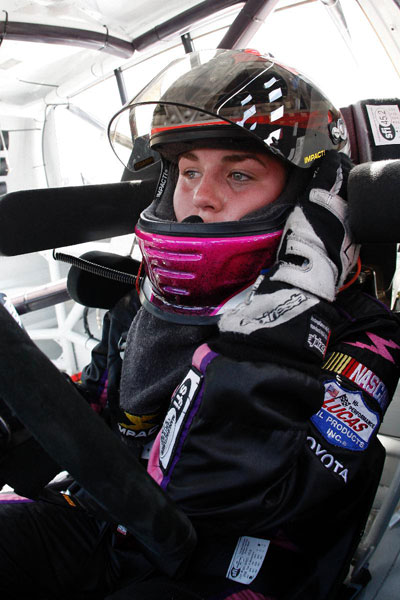 Race: Atlanta na-long.jp200
NASCAR Camping World Truck Series:  17 of 25
Track:  Atlanta Motor Speedway
Date:  September 2, 2011
After coming off a strong 15th-place finish at Bristol Motor Speedway last week, Long will be back in action on Friday, September 2 at Atlanta Motor Speedway for race 17 of the 25-race schedule in the NASCAR Camping World Truck Series (NCWTS). Pre-race coverage of the event will begin on SPEED at 7:30 pm EDT followed by live racing action at 8:00. Radio coverage of the Atlanta 200 will begin on MRN Radio at 7:45 pm EDT.
Atlanta Motor Speedway – Long will make her first laps around the 1.54-mile Atlanta Motor Speedway in Friday night's Atlanta 200. Although this will be another first-track experience for Long, she has had success on 1.5-mile tracks this season, registering her NCWTS career best 11th-place finish at Texas Motor Speedway in June.
Johanna on Atlanta – "I'm really excited about making my first start at Atlanta Motor Speedway on Friday. This will be my first time at this track, but I've heard it's a lot like Texas Motor Speedway, and I absolutely love that track.  Our team has made major improvements the last couple of races with multiple top-20 finishes, so we just have to keep the momentum going in Atlanta!"
Racing for Paw-Paw –"I'm racing in honor of my Paw-Paw this weekend. He's been battling liver disease for awhile now and is still staying strong, so I want this race to be for him. He is the one that has given me the opportunity to do what I love from the beginning of my career, and he has been my biggest supporter. Every lap that I make around Atlanta Motor Speedway will be for him."
"Paw-Paw Powered" Toyota Tundra – In honor of Long's Paw-Paw, she will have "Paw-Paw Powered" on the right-rear corner of her No. 20 Toyota Tundra.
Bristol Motor Speedway Recap – Long and her Panhandle Motorsports team made strides last Wednesday night at Bristol Motor Speedway, where the young driver finished 15th. Despite being involved in an early race incident, Long fought back to finish on the lead lap at the World's Fastest Half-Mile, scoring her second top-15 of the season.
Marketing Opportunities – Long and the No. 20 Panhandle Motorsports team are currently seeking marketing partners for the 2011 NCWTS season. For more information on sponsorship opportunities, please contact Spire Sports + Entertainment or Panhandle Motorsports.
NCWTS Race Schedule:
(All Times EDT)
Friday, September 2
Practice:  10:30 – 11:30 am
Final Practice:  12:00 – 1:30 pm
Qualifying:  5:05 pm
Driver Intros:  7:30 pm
Race:  8:00 pm
About Johanna Long:
Johanna Long, one of the youngest drivers in the elite NASCAR Camping World Truck Series, races the No. 20 Panhandle Grading & Paving Toyota Tundra for family-owned Panhandle Motorsports. The 19-year-old began racing at the age of eight, quickly moving from go-karts to Legends cars to a Late Model. She made history, becoming the youngest driver and only female to win a track championship at Five Flags Speedway. She went on to win the prestigious Snowball Derby at the track in 2010. For more information on Johanna, please visit 
www.JohannaLong.com
.
# # #
Media Contact:
 Jessica Schaak
 Spire Sports + Entertainment
Related Articles
Share
About Author