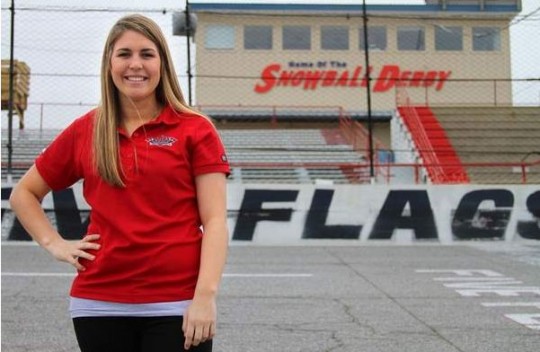 The morning after defense of her historic Snowball Derby championship resulted in a disappointing last-place finish, Johanna Long traveled to New York City for a lunch meeting that became a breakthrough opportunity.
Exactly one month later, on Jan. 5, she finalized a two-year contract with ML Motorsports, a team owned by Mary Louise Miller and based in Warsaw, Ind.
It will enable the 19-year-old Pensacola native to compete in 21 of 33 races on the NASCAR Nationwide Series schedule in 2012, beginning this week at Daytona. She will reset her own feat as the youngest female driver in history to compete on any of the NASCAR circuits.
"My excitement is as high as it can be, for sure," said Long, who last year became the youngest female driver in the history of the NASCAR
Camping World Truck Series. "To go from not knowing what I was going to do this year to having 21 races with an awesome team — it just means a lot to me. I am just so grateful for Mary Louise and ML Motorsports to take a chance on me."
The relationship was forged when Long and her older sister, Haley, met with Miller, her husband, Dane, and the ML Motorsports team at a Manhattan restaurant. First impressions were enough to lead into the offer to drive their No. 70 Chevrolet Impala race machine, beginning with Saturday's Drive4COPD 300 at Daytona International Speedway.
"I knew right then that was the team I wanted to be involved with, because everyone was so nice and we all got along so well. It was a family organization, just like ours, and it felt like home," said Long, who leaves today for Daytona, where she starts preparations Monday as part of NASCAR's biggest week and grandest stage.

National exposure
The Nationwide Series race, which airs at 12:15 p.m. Saturday on ESPN2, is a prelude to Sunday's Daytona 500. Many of the same superstar drivers will compete in both events, including endorsement darling Danica Patrick, who will make her Sprint Cup Series debut with the Tony Stewart-owned Stewart-Haas race team in the Daytona 500.
Related Articles
Share
About Author