Courtesy of wcnc.com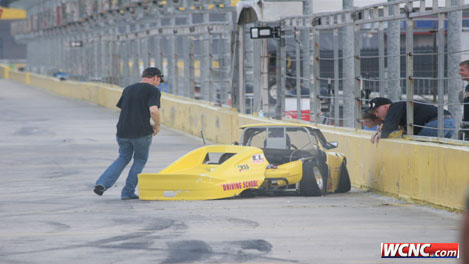 CONCORD, N.C. – The wife of NASCAR driver Matt Kenseth left Charlotte Motor Speedway by stretcher early Monday evening after a crash at the race track during a practice session for a charity race next month.
Matt Kenseth, the 2003 NASCAR champion, talked to his wife Katie Kenseth before the start of the practice session giving last minute instructions.
Katie Kenseth crashed into what typically is the pit road wall around 6:15 p.m.  She was behind the wheel of a bandolero vehicle, which resembles a full bodied go-cart, and crashed a few laps in after taking a sharp turn.  Her husband rushed down pit road to check on her, and emergency track officials loaded her onto a stretcher.
Other NASCAR drivers such as Joey Logano, Casey Mears, Michael McDowell and David Ragan were also in attendance to watch their wives and girlfriends practice for the inaugural Better Half Dash on October 15.
The charity race will benefit Speedway Children's Charities and Motor Racing Outreach and will feature a 25-lap race on the front stretch quarter-mile oval before the Bank of American 500.
Charlotte Motor Speedway tells NewsChannel 36 Katie Kenseth was treated and released from a nearby hospital.
Matt Kenseth tweeted late Monday night: "That didn't turn out so well. Katie and I are home, she has a broken scapula and some bumps and bruises. Thanks for all the well wishes."
Monday's practice session was the first of two scheduled for this week.
Earlier in the day on Monday Kenseth posted a photo on Twitter of Katie, wearing a replica of his purple Sprint Cup Series firesuit, standing next to her yellow car with a joke about female driver Danica Patrick.
"Getting ready for better half dash test…. looking all over but no sign of Danica's husband," he posted on Twitter.
The Associated Press contributed to this report.
Related Articles
Share
About Author