By RANDY COVITZ
The Kansas City Star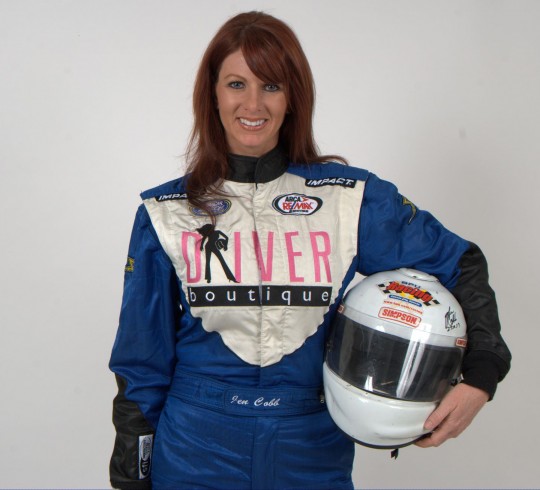 DAYTONA BEACH, Fla. | A year ago, Jennifer Jo Cobb enjoyed the most successful season for a woman in NASCAR history.
This year, she hopes to surpass that.
Cobb, who finished 17th in the Camping World Trucks Series — the best finish by a woman since Sara Christian was 13th in NASCAR's inaugural six-race season of 1949 — is stepping up to the Nationwide Series.
It wasn't Cobb's plan. But what was supposed to be a five-race trial with 2nd Chance Motorsports in the Nationwide Series has turned into a full-season commitment with a goal of having Cobb win Rookie of the Year honors.
NASCAR's new rules, which require drivers to choose which championship to chase, meant Cobb had to decide between the Nationwide or trucks series.
"I wanted to run the first five races in both the Nationwide and trucks series and see what looked more promising," said Cobb of Kansas City, Kan. "Rick Russell (owner of 2nd Chance) said, 'If you'll declare Nationwide and run for Rookie of the Year, I'll make sure you run a full season.'
"My fear is: Does he really have funding to do that?"
Cobb, 37, has spent her career racing underfinanced and aging equipment against big-spending NASCAR teams, but she was assured by Russell that they'll have the $3.5 million to $4 million to campaign a Nationwide car, especially if their sponsor for Saturday's Nationwide race, Rim Rock Designs, a nationwide flooring company, comes through for the rest of the season.
Russell, a NASCAR car owner since 1999, fielded a Nationwide team for five races last year with Tim Andrews behind the wheel. When Cobb agreed to the first five races for this season, she and crew chief Steve Kuykendall visited Russell's shop, and the decision was made to go for the full season.
"I told her, 'You've already showed what you can do in the trucks series, and if you go back to the trucks series for another year, it will be detrimental to your career,'?" Russell said. "You hate to say anything. But you see who is in the truck series: guys who have gone on and couldn't succeed (in Cup or Nationwide) and came back. She did the best she could do with what she had last year, and it's time to step up the ladder."
Cobb will retain ownership of her No. 10 truck and will race it tonight at Daytona. She will lease her No. 10 Ford F-150 to other drivers for the rest of the season, as long as her Nationwide deal continues. She will try to qualify for Saturday's Nationwide race in a Mustang formerly owned by Roush-Fenway and equipped with a Roush-Yates engine.
Cobb has made five career starts in the Nationwide Series, three at Kansas Speedway, finishing a career-best 30th. She ran in July's Nationwide race at Daytona, running just five laps. But it was her breakthrough season with the trucks that led to this year's opportunity.
"I've always had my eye on something like what happened last year, to be given a shot at a full season," Cobb said. "My biggest problem has been being an independent, without funding. But despite that, we managed to shatter some marks and have some decent finishes and finish almost every race.
"I think we earned a lot of respect over the past season, and absolutely taken my career to that next level, where we continue to have some very real things going on."
Cobb's primary competition for Nationwide Rookie of the Year includes Trevor Bayne, who will drive for Roush Fenway; Ryan Truex, who will drive for Pastrana-Waltrip; and Timmy Hill of Rick Ware Racing.
No female has ever won Rookie of the Year in any of NASCAR's series, but Cobb sees herself as carrying the banner for women.
"I really owe a debt of gratitude to all the women that came into this sport before me and were role models for me," Cobb said. "And, hopefully, I can be a role model for not just little girls, but also little boys who don't have a hope or a prayer because they don't have the finances to be here.
"My faith really got me through all those rough times and all those times I thought when I was just done and out of money and 'We can't do it,' 'We can't go on.' It's been a tough ride, but it's been one that I think really shaped my character, and I'm very appreciative for that."
Her move full time to the Nationwide Series could cause a quandary June 4 when the trucks will race at Kansas Speedway and the Nationwide cars will run at Chicago.
"I keep trying to figure out how I can do both," Cobb said. "Kansas starts at 1 o'clock, the other starts at 7. … Can I do it? It would be fun if I could pull it off. Let's see how it goes. What do I have to lose by trying something so dramatic? Where are we in points, and where are we in the rookie standings?"
To reach Randy Covitz, send e-mail to rcovitz@kcstar.com
Read more: http://www.kansascity.com/2011/02/17/2664298/kcks-cobb-moves-full-time-to-nationwide.html##ixzz1ERQ7Xx00
Related Articles
Share
About Author