Courtesy of LeilaniMunter.com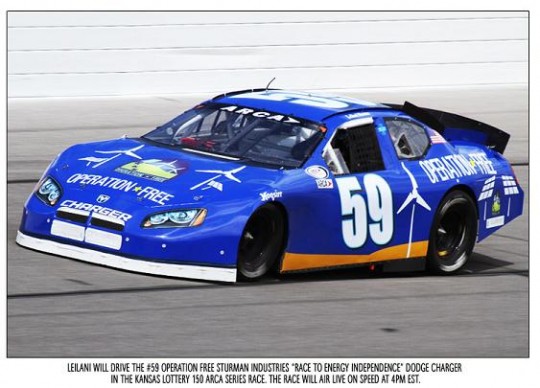 KANSAS CITY, KS (September 21, 2010) Stock car racing fans at Kansas Speedway on September 30 will receive an unusual message from one of the cars speeding around the track: America needs to compete in the "Race to Energy Independence."
 
Operation Free, a group of U.S. military veterans advocating for clean energy and climate change reform, today announced their sponsorship of race car driver Leilani Münter, who is also a clean energy advocate, environmental activist and was recently named the #1 eco athlete by Discovery's Planet Green. For the September 30 ARCA Series Kansas Lottery 150 race at Kansas Speedway, Leilani's car (#59) will feature Operation Free's logo, images of clean energy sources, and "Race to Energy Independence" prominently displayed and will deliver their message that climate change and our energy posture are national security threats. The "Race to Energy Independence" is partially powered by sponsor Sturman Industries, manufacturer of advanced digital valve technology that improves engine efficiency and reduces fuel usage. 
 
"Partnering with Operation Free and Sturman Industries is great symmetry for my efforts to promote environmental responsibility and pollution reduction. America's veterans have sacrificed so much for the rest of us and we should listen to their message that reducing our dependence on foreign oil and addressing climate change must be a national security priority for America," said Leilani Münter.
 
"Racing fans, like most Americans, want a future where our energy security is ensured. Partnering the veterans of Operation Free with a dynamic person like Leilani and her team with help us reach a vast, new audience with our message that energy independence and addressing climate change are national security priorities that we can all support. America needs to compete in the 'Race to Energy Independence' for more jobs, less pollution, and greater security," said Jonathan Powers, former U.S. Army Captain and COO of the Truman National Security Project.
 
The partnership between Leilani Münter and Operation Free will leverage the exposure of the September 30 ARCA (American Automobile Racing Association) race at Kansas Speedway in Kansas City, KS to reach race fans, one of the largest and most patriotic fan bases in the United States, with their message that America needs a new energy policy that will lead to energy independence and address climate change. Leilani's car (#59) will be emblazoned with the Operation Free logo and "Race to Energy Independence." The car was unveiled today at Kansas Speedway during testing for next week's ARCA race. Click here for high resolution, downloadable photos.
 
Sturman Industries hopes to promote its "Powered By Sturman" American engine modifications that address national energy and security needs by using technology to transform engine efficiency and facilitate the nations' effort to replace foreign oil with alternative American fuels. "Powered By Sturman" engines are internal combustion engines modernized with Sturman digital hydraulic valves, software strategies, and flexible system design replacing fixed mechanics, to increase fuel efficiency, reduce pollution from emissions and enable alternative fuels.
You can follow Leilani on Twitter @LeilaniMunter
About Leilani Münter
 
Leilani Münter is a biology graduate turned race car driver and environmental and clean energy activist. Leilani has been named one of the top ten female drivers in the world by Sports Illustrated. When not racing, Leilani spends her time on environmental causes like clean energy, pollution reduction and sustainability. Since 2007, every time Leilani races, she adopts an acre of rain forest to offset her carbon footprint. Leilani hold a degree in biology from the University of California in San Diego. She is a model, an activist and one of the fastest women in the world. Learn more at leilanimunter.com
 
About Operation Free
 
Operation Free is a coalition of veterans and national security organizations dedicated to securing America with clean energy. Operation Free sponsors the Veterans for American Power National Tour, a 29 state tour by Iraq and Afghanistan veterans making the connection between energy policy and national security. Learn more at www.OperationFree.net. Operation Free is an advocacy campaign of the Truman National Security Project.
 
About Sturman Industries
 
Founded in 1989, Sturman Industries encourages creativity and forward thinking in design and innovation for industrial technologies t0 improve and protect our environment. Sturman leading-edge digital controls transform mechanical systems to meet critical modern day needs. Engine systems are smaller, ultra efficient, clean and green. Sturman has been recognized by the NASA Hall of Fame and the Society of Automotive Engineers for technology leadership in engines and transportation. For more information visit sturmanindustries.com
 
For more information about The Race to Energy Independence visit: operationfree.net
Related Articles
Share
About Author