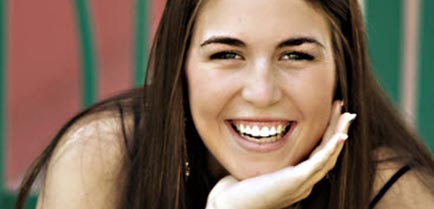 Johanna Long hasn't walked the red carpet at the ESPY's or the Grammy. Neither has she been splashed across magazines or national television commercials.
When she gets to Daytona International Speedway on Monday, she'll be the other woman making a competitive debut of sorts, this time in NASCAR's Nationwide Series race Saturday.
She'll likely have a cameo role this week in Danica-mania — the continued fascination and world media attention on Danica Patrick, who has a guaranteed spot for her NASCAR Sprint Cup debut in Sunday's Daytona 500. That's in addition to Patrick running a full schedule on the Nationwide Series, beginning with Saturday's race.
Long, 19, understands she will likely get asked about Patrick, whom she has never met, along with the impact female drivers can have in a male-dominated sport.
"I just want to be me," said Long, who will become the youngest female driver in history to start the engine in a Nationwide Series race. "This is my first time in a Nationwide car, and she has been racing for a very long time. I'm excited to be racing with her and everyone else."
Patrick, who turns 30 next month, has created the biggest buzz already during Speedweeks at Daytona. She commanded the largest audience at media interview sessions. She's needed her army of handlers to manage autograph seekers and media requests. One woman figured out a way to follow her into the bathroom for an autograph.
Danica-tona
Normally, the Budweiser Shootout, last night's non-points race run at Daytona, is the ignition to NASCAR's biggest week of national attention. But now, it's all about the "Danica 500."
"We're going in there kinda flying under the radar, and that's what I love about this situation," said David Green, who is Long's coach and mentor for the ML Motorsports team and a former successful driver in this level of NASCAR racing. "We've talked about all of this and about Danica.
"I think it's been good for the sport. I think it's probably enabled other opportunities for female drivers like Johanna to get involved, so I think that's a positive."
Green said it's Long's own personality that jumps out when meeting her. From the time she began racing at Five Flags Speedway, Long has instantly connected with fans, especially children and their parents.
"It's her normalness — and I know that's not a word," Green said, laughing. "To me, that is such a refreshing picture in this day and time in stock car racing.
"She comes across as calm and mannered and collected, and all those things you might say are a trait of Terry Labonte, for example. But at the same time, she is very polite and normal. It's almost as if she wants to let her actions, her ability, speak for itself on the race track."
Another star from Pensacola area
This community has been blessed with its multitude of sports stars who have attained national acclaim and brought positive attention to Pensacola. Long will soon do the same.
Like her sports peers who grew up in Pensacola, Long has reached rare heights. She's won the Snowball Derby, won track championships, raced at 18 on the NASCAR Truck Series, broken barriers, and earned respect. She loves where she grew up.
And now, she will be part of the biggest week and one of the grandest stages in motorsports.
"With Danica Patrick, the branding stuff she has done is great for her and it's been very good," said Long's father, Donald. "I see what NASCAR is trying to do to keep growing the sport, and NASCAR needs to do that.
"With Johanna, it's an alternative to that kind of branding. I think she fits a lot of different criteria as far as demographics. We're very cognizant of trying to make sure we do what we're supposed to do. We want to fill a void of her own audience."
All she has to do is be herself. It will happen.
Related Articles
Share
About Author