In October first I received a phone call with the opportunity to test drive a Thunder Roadster at my home track the "Bullring" at Las Vegas Motor Speedway.  I had never driven on a circle track, ever, in addition to never ever sittin gin a thunder roadster, but I was more than excited to give it a shot.  Any seat time is good seat time and I was definitely in for a new challenge.
Once I got to the track I only had 3 minutes before the last practice session to get on track.  I paid my entry and threw my suit on as quick as possible.  By the time I got to the pits my class had already been gridded.  I have never in my life hopped in a race car so fast.  Having no idea what the switches were for, I asked my friend, who explained each one quickly.  Then I shouted "Is this like a legends car!?" And he hollored "Yep! Pretty close!".  Taking a deep breathe I pushed the start button and headed on track.
I was the last car on track and I made my way onto the oval.  I was focused mostly on learning how the car felt and responded, more than concentrating on the track itself.   I only got to drive for 6 minutes of the 10 minute practice session and the car had ran out of gas before I ever saw the checkered flag.  But for those 6 minutes I have never felt so new to something in my whole life.  It was amazing, in a good way.  I felt like a clean slate that was ready to absorb all the information as possible.
The tires were so sticky and I found myself having a hard time being able to trust the banking of the track.  I did my best to take the lines the best of my knowledge and it seemed to be working.  The first practice session ended and I came in with a smile on my face.  Ideally, the car needed a few adjustments, especially my driving position; but I was so excited to had the experience.
My race wasn't for a couple hours.  We had our drivers meeting and I began to situate everything as best as I could.  I got an amazing amount of help from some other drivers: Shaun Polack, Chris Bosley, Doug Germano, Paul Licata, and Nick Degidio.  As well as my dad, who came to my pits whenever he had a chance from not working on my brother's legends car.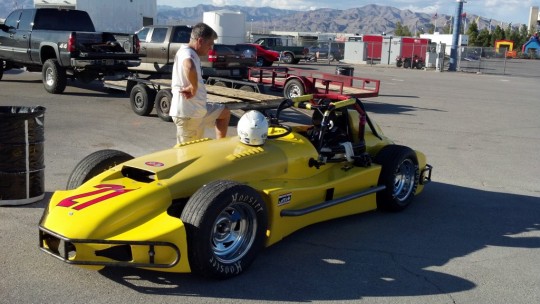 My goal for the race was simple:  stay on the lead lap.  The grid is picked by a draw and my number was good, I was off pole, though, I opted to grid last because I did not want to be in any one's way.  As a competitive driver, I know how it is to be battling for a win and having someone inexperienced on a track be in your way.  With that being said, I didn't want any more pressure on me than I already had, so I sat last on grid.
The race went great, my rolling start was fantastic, I stayed with the pack into the first turn and hand no incidents.  We had one caution and one restart. Throughout the race I saw I was gaining ground on the car in front of me… I ended up making a clean pass and held it for the rest of the race.  I placed 7th out of 10 and I was completely blown away.  It was so encouraging and motivating to see that I could keep up with the local guys that do it all the time!
I never expected to make a pass and I was more than stoked tohave stayed on the lead lap.  This was such an amazing opportunity and I truly look forward to getting into a thunder roadster again.  In December the Silver State Road Course Classic will start back up (the same race I ran last year in the legends cars) and I am hoping to race the Thunder Roadster in this series!
Stay tuned!!  Also Check out this quickly edited video clip from driving the Thunder Roadster!
Related Articles
Share
About Author