Courtesy of WickedLocal.com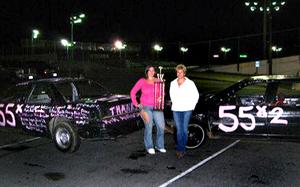 KINGSTON —Twenty-three-year-old Kingston resident Michelle Heath has been racing cars since she was 18 at Seekonk Speedway.
Usually, Heath is the only woman in the field of 60-odd drivers. She usually runs short-track races, 10 to 15 laps in which "rubbing is racing" is the unofficial motto.
Oct. 2, however, Heath faced a different kind of field in the track's "Racing against Breast Cancer" powder-puff race against 29 female drivers, including her mother, Linda Heath. Linda had never raced before, although her father, brothers, sons and daughter all race regularly at Seekonk. Proceeds from ticket sales were donated to the American Cancer Society's Making Strides Against Breast Cancer fundraising branch.
Heath's black and pink late-model stockcar was covered with the signatures of friends and family members who have or know someone who has breast cancer. Heath dedicated the race to her grandmother, who died of the disease a few days after the race.
The play-by-play
"Mom got black-flagged her first lap out for practice because of a tire, so the day didn't start well. We pulled it together, got the tire fixed and she pulled poll for her heat. There were only nine cars in the eight-lap heat. She started first and finished third. Not bad for her first time on the track. I pulled 22nd for my heat, and came in second, so it moved my position up.
"In the 25-lap feature, Mom and I started sixth and seventh. It was cool to start next to each other. In two laps, I had first place and led for 14 laps until we went into a caution. Unfortunately, during the caution, someone passed me and they considered her first place. At that point, my car was overheating and didn't have the speed to catch her, but I got second. I lapped Mom a few times waving to her as I drove by, but she had a blast. It was a beautiful day and a freezing night – we didn't race till after 10 p.m. I thought Mom was going to fall asleep waiting but it was worth the wait."
For grandma
"The next day we had a family meeting at my grandmother's house to say goodbye. I placed my trophy next to her bed and it was the first thing she saw when she woke up. She wasn't all there because of the pain meds, but she had a huge smile and said, 'Oh, wow.'
"It brought tears to my eyes, and even though I didn't win I made her proud, and I did it for her."
Related Articles
Share
About Author