We shortened this read full story about other drivers here: Ron Sutton's Winner's Circle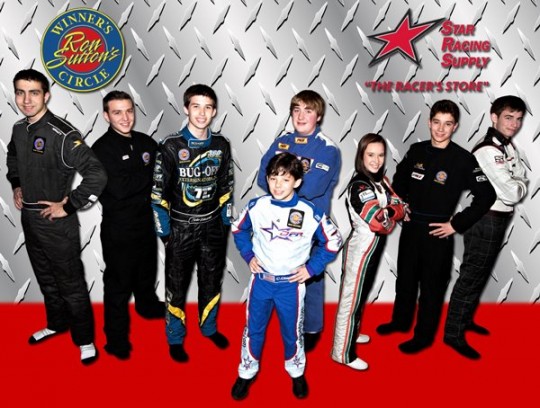 SACRAMENTO, CA (January 17, 2012) – The annual talent search known as The Shoot-Out always sorts out the top talented young drivers from across the nation.  Making the Shoot-Out is an honor in itself. Winning the Shoot-Out and earning a spot in Ron Sutton's Winner's Circle driver development program, along with big sponsorship dollars, is the goal.
In the previous year's Shoot-Out 14 of the 933 drivers that applied made the cut. This year only 9 super talented young drivers won spots from the 965 applicants for the RSWC program and Star Racing Supply sponsorship dollars. "We had slightly more apply for 2012, however we were simply more selective in this year's Shoot-Out," stated RSWC Owner Ron Sutton.
With the driver search complete, nine new talented drivers coming from all over the US will join the returning 11 drivers from last year's RSWC driver roster. These 20 drivers, each with $6,000 to $25,000 of sponsorship dollars from Star Racing Supply, will train and race with the RSWC driver development program with the goal of working their way up the ladder to professional stock car careers. Each driver stood out uniquely and drove impressively in the Shoot-Out to earn a position in the RSWC program.
16 year-old female driver Molly Helmuth of Seattle Washington trains in go karts but races three different types of stock cars at her local track Evergreen Speedway. In 2010, Helmuth was voted Washington State Driver Rookie of the Year as well as Rookie of the year in Mini Stocks becoming the youngest ever driver to hold this honor. 2011 was her year of progression as Molly set the track record and posted two podiums in the Mini Stock as well as two podiums in her rookie season in the Pro 4 Truck and made a Late Model debut at the end of the season. In the 2011 Driver Shoot-out Molly showed a smart and coachable attitude while being aggressively fast in the USAC Focus Midgets.
What an exciting group of talented drivers we found in this year's Shoot-Out," stated head of development, Ron Sutton. "We were more selective in this year's interviewing process and it shows. We are very fortunate to have these impressive young drivers join our development program.  We've already started class room training and I can't wait to get to the race track with them."
The race season begins shortly for these 9 drivers but the off-season has been busy already with testing and classroom training sessions. The new season begins on March 31 with many of the new drivers competing in the USAC Focus Midgets Madera Gerhardt Classic event at Madera Speedway in Madera, CA, and with NASCAR Modified openers on April 7 at Stockton 99 Speedway in Stockton, CA.
Ron Sutton's Winner's Circle thanks partners: K&N Filters, Scribner Plastics, Allstar Performance, Sunoco Race Fuels and Star Racing Supply.  For more information on Ron Sutton's Winner's Circle, log on to www.Winners-Circle-Racing.com.
Star Racing Supply, one of the fastest growing oval tracks parts companies on the West Coast is a one stop shop for complete race cars, chassis, parts, tires fuel & more. Specializing in pavement oval track racing, the Star Race Cars fabrication shop builds state of the art, winning, race cars from bare chassis to complete race cars in USAC & NASCAR series. For more information on Star Racing Supply, log on to www.StarRacingSupply.com.
Related Articles
Share
About Author