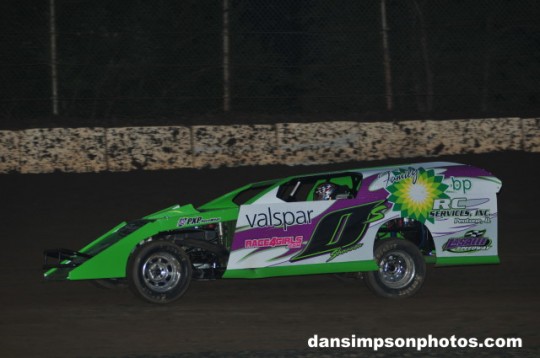 With my UMP Sport Compact career coming to a close this year, I jumped behind the wheel of my UMP Modified for the first time at LaSalle Speedway June 30. With the mild expectations of gaining more confidence and seat time, my crew and I unloaded the #0s Pierce chassis modified for only the second time this year.
Strapping into the car for my first full night of racing, I was in a trance trying to control my anxiousness along with absorbing all of the information that I could before hot laps. Going from a regular manual transmission to a reverse clutch was probably the most frightening. Note to self: Don't press the clutch to shift! The sound of the motor quickly brings me back to Earth. Rolling off to hot laps, following my step-dad Travis Kohler, my nerves are overcome with pure excitement. With the blink of an eye Travis left me in his dust, literally. After the quick hot laps session and qualifying, I know where I'm starting in my heat race.
Lining up for my heat race with my custom white duct tape rookie stripe on my rear bumper, I pull my belts one last time before I experience my first "real" modified race. Overall, the heat helped me to better grasp the concept on how to drive the car as I got faster each lap. My finish in the heat race did not guarantee me a spot in the feature event; therefore I had to run a consolation race. Just like the heat race, the consi was a time for me to gain more confidence and seat time. Unfortunately, we did not make the show. But hey, better luck next time.
With our initial intentions of becoming more comfortable and familiar with the car we were not let down with my results my first night out. First comes control, second comes speed. To many's surprise I successfully held my line out on the track, getting faster each time going out. After not making the show that Saturday night, we were very happy with how the night went. Not only did I gain more seat time, the car also came home in one piece. Double win.
This is only the start to my steep learning curve, but each night out in the car will be another step closer to catching up to race pace, gaining more control, and simply becoming more comfortable. I want to thank all of my family, friends, and sponsors for their continued support throughout my short racing career.
Stay up to date by following me on Twitter @ShannonMudro or checking out the calendar feature on www.Race4Girls.com
Related Articles
Share
About Author