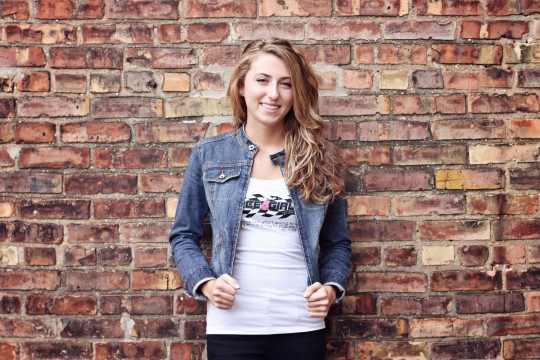 How can the off season drag on forever, yet still sneak up on us? Between balancing school work, tennis and a part-time volunteering job; I literally batted an eyelash and race season was here. Well, they do say that time flies when you're unconscious.
When Easter weekend rolled around, we found ourselves at LaSalle Speedway's two-day Thaw Brawl show. Let me tell you, they don't call it the Thaw Brawl for nothing. It was freezing! We started the two-day show on Friday as a two car team with fresh UMP modifieds and high expectations. Luckily, I managed to bring my car home in one piece both Friday and Saturday night. With not making the A-Main either night of the Thaw Brawl show, I still managed to brush up on my newly acquired skills and set some momentum for the following weekend.
The momentum during the week of the Thaw Brawl definitely helped me when I jumped back behind the wheel of my #0S Pierce modified at LaSalle Speedway on April 6. With my incredibly busy schedule, my tennis team was my first priority that Saturday morning when we pulled off a big victory before I met my other team at the racetrack. With my poor qualifying efforts, we found ourselves in the back of the heat race where we also finished. The track was rough all night to say the least. My brain was a little raddled and my arms a little tired!
I started in the last row of a seventeen car field with a twenty-five lap A-Main ahead of us. I literally had the only expectation and goal of learning how to run the bottom groove for the first time since that was the only line really worth running that night. Somehow someway I managed to stay out of trouble and dodge a couple close wrecks. By the time the checkered flag waved, I had worked my way up to a 10th place finish. When I got back to our pit I had no idea that I just scored my first top 10 in the modified until my uncle obnoxiously stuck his face in my window, before I could even get my helmet off, literally screaming, "You did it! You got 10th!"
I'm one to set small goals that I can accomplish week by week to avoid getting overwhelmed by the big picture. When I started last year I just wanted to stay out of trouble, lay down consistent laps, not get lapped, make a feature and now I can focus on chalking up another top 10 the next time I find myself behind the wheel. Like I say to myself every night before I go out on the track, "Remember to have fun, take everything one small step at a time."
Twitter: @ShannonMudro
Facebook: Team KMK Motorsports
www.shannonmudro.com
Related Articles
Share
About Author