Courtesy of DesmoinesRegister.com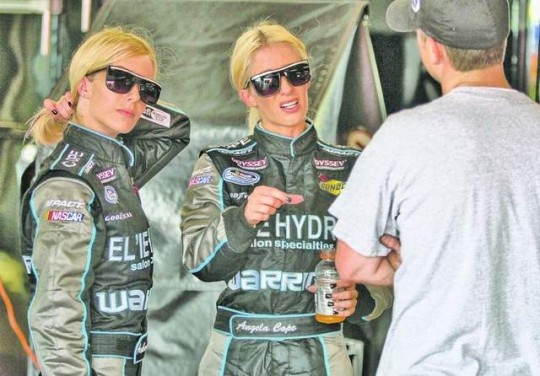 Newton, Ia. — The Cope twins are heaven on the eyes and hell on four wheels. The first thing you notice on their website is this giant picture of Angela and Amber, posing in strapless black dresses. A click on the photo gallery sends you to a collection of 10 shots: four glamour pics in those same black dresses and six from the track. It's an eclectic mix, pitched somewhere between Sports Illustrated and Vogue.
"At this point, the name of the game and what it is today, you've got to use whatever you can possibly use," Angela says, matter-of-factly. "I mean, we're trying to take every opportunity we can right now to get money in the door, to get people to believe in us."
For the Copes, good looks are as much a business strategy as they are a blessing. Such is life when you're a female driver in a male-dominated, testosterone-fueled world of professional stock car racing, the goodest and oldest of the good ol' boy networks.
"I think you could go back to a time in the sport when ladies weren't allowed in the garages at all, let alone participate as a driver," series director Joe Balash says of Sunday's John Deere Dealers of Iowa 250 — the first NASCAR Nationwide race ever slated to feature three women in the field. "So when you're having a change in what the thought process is, and you welcome female drivers into the garage — and not only drivers but mechanics and crew chiefs and spotters — the sport is open to anybody that wants to compete in it."
The revolution is still a work in progress, and it didn't happen overnight. Since 1991, the Nationwide series has featured multiple women drivers in a race 18 times. But never more than two — until now.
"There's a lot of good that comes out of being a female driver and there's a lot of bad that comes out of being a female driver," offers NASCAR veteran driver and owner Jennifer Jo Cobb, the third woman scheduled to run at Iowa Speedway. "It's still sort of in a bit of a pioneering stage, and that can become tough sometimes. And what's really tough is when you're struggling, you're highlighted."
Cobb has a top-10 finish and more than $330,000 in career winnings on NASCAR's Camping World Truck series circuit, but the jump to Nationwide has been a far bumpier road. Of her seven starts this season, the Kansas native has finished only two.
"I'm blessed with a really good and I feel like a large fan base," Cobb says. "But I've had a few anonymous emails (that say), 'Go wash some clothes,' or something. It's definitely like 90 percent positive reaction and 10 percent negative reaction. And zero negative in person."
Meanwhile, the Cope twins — nieces of 1990 Daytona 500 winner Derrike Cope — are in line to make their Nationwide debut, having run in a NASCAR Truck event for the first time last October (Amber finished 26th; Angela wound up 30th).
"We're pretty, thank you, we appreciate it," Amber says. "But at the same time, we're here to be drivers full-time."
It's a delicate, tricky balance. You need sponsors, and sponsorship money, to stay on the track. In the same breath, you want to be respected by peers and fans. Whether it's a shirtless Carl Edwards on a magazine cover or Danica Patrick in a swimsuit, sex sells.
"Even though I'm over 35, my mom still kind of keeps my moral compass, I guess," Cobb says. "She's like, 'You know, Jen, don't go sprawling across the hood of a car in a bikini to advance your career.' If you do it, or if you don't do it, you're going to divide the sentiment."
A few years back, one of Cobb's sponsors also happened to make lingerie. She was flown to New York City for a photo shoot in evening wear. At times, it felt awkward and uncomfortable. There are limits, Cobb says, and everyone's boundaries are different. Recent Drake Relays favorite Amy Acuff has appeared in the pages of Playboy, for example — a notion that doesn't interest Jennifer in the slightest, regardless of the dollars involved.
"It's like getting a tattoo: Once you've done it, you have to live with it," Cobb says. "To me, (Playboy is) something you do after your career to show you've still got it. That's not something you do to advance your career, if you do it at all."
For all three, Newton is about more than self-promotion. It's about opening doors. It's about shattering glass ceilings and old stereotypes.
"They can wear makeup and do their hair all the time and look pretty," Amber says, "and they can still get behind the wheel and go 170 miles per hour."
You go, girl.
Related Articles
Share
About Author