Photos and Release Courtesy of Johanna Long PR
Start – 25th Finish – 20th  
Avondale, AZ – February 27, 2011 - 
Panhandle Motorsports' No. 20 Panhandle Grading Toyota Tundra team, headed up by the youngest driver in the NASCAR Camping World Truck Series – Johanna Long – earned their first top 20 finish at their inaugural visit to Phoenix International Raceway.
Long lined up the No. 20 Panhandle Grading Toyota Tundra in the 25th position with a qualifying lap time of 27.735 and a speed of 129.800mph.  She ran a 28.621 fast lap early on in the first 20 laps of the race, then went on to hold her own between 24th and 29th position.

Taking four tires and fuel at lap 38, Long restarted in the 28th position.  Staying out during lap 41′s caution flags, Long restarted in the 26th position.  She continued to range between 26th and 27th until lap 111 at the race's last caution, when she began, as crew chief Cowboy Starland claimed over the radio, "knocking down pins of position." Holding her own through her first NASCAR flat track experience in the final laps, Long showed her determination at Phoenix by powering down seven positions with the No. 20 – taking it home in the 20th position at the checkers.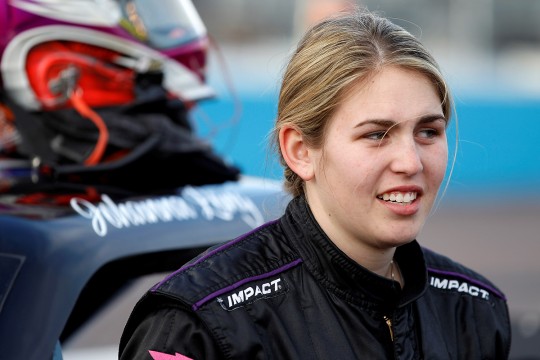 The  finish not only gives Long her first top 20 of the season for Panhandle Motorsports, but also lands her as the ninth highest Rookie driver in the NASCAR Camping World Truck Series driver points going into Darlington on March 12.
Johanna Long Quote:
"I have to thank my guys for giving me a great truck this week, from practice to qualifying to the race night.  They freed it up to help me learn, and I learned so much over the course of just a few days at my first NASCAR flat track.  We say it in the hauler – taking 'baby steps' this year and just dig – but still with competition in mind. We're competitors, and I'm looking to improve at every showing this year.
I have to remember that it's my first time at these tracks – and be encouraged by the knowledge I bank at every track. On to Darlington preparation – another first!"
Related Articles
Share
About Author