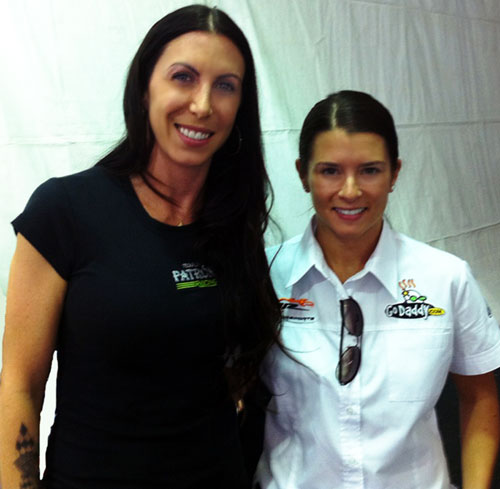 The Tequila Patron Toyota Camry Funny Car team took a break from their usual stomping grounds of the drag strip to visit the oval track in Bristol, TN this past weekend for the Food City 500 NASCAR races at Bristol Motor Speedway.
The Tequila Patron NHRA team made the trip down to the land of country music, Funny Car in tow, for a jam-packed 'NHRA Meets NASCAR' weekend, and what the team considered an exciting introduction to the NASCAR crowd.
Down in Tennessee, they were greeted with open arms by NASCAR fans and media alike. For Team Patron's driver, Alexis DeJoria, it was especially exciting as it was her first time ever attending a NASCAR event.
The Friday through Sunday event was filled with numerous appearances each day, including multiple events on various stages in front of thousands, media interviews, fan Q & A sessions, autograph signings, and a chance for what many would consider to be the two reigning queens of NASCAR and NHRA- Danica Patrick and DeJoria- to meet in person for the very first time. The two swapped racing stories, wished each other luck in their run for rookie of the year.  The two-motorsport fan-favorites' are both vying for the prestigious Rookie of the Year title in their respective sports this year. DeJoria presented Patrick with a bottle of Patron Tequila Platinum. Perhaps the girls can share a toast together at the end of successful rookie seasons!
During the weekend DeJoria signed autographs alongside the 40+ NASCAR drivers at the Food City Race Night fan event where her car was also on display; she was introduced to the crowds at both the Toyota and NASCAR VIP/Season Ticket Holders pavilions throughout the weekend; was invited to attend the pre-race Drivers Meeting on both Saturday and Sunday where she was introduced to the drivers, and moments prior to Sunday's main event, she was invited to do a NASCAR drivers ride around in the outside of a truck waving to fans alongside the other drivers during the official NASCAR driver introductions.
Team Patron was scheduled to start the 8000 hp car on Sunday morning prior to the Sprint Cup race in front of the over one hundreds thousand in attendance, but unfortunately, all pre-race activities were cancelled due to heavy rain, which also prohibited DeJoria from riding in the pace car. On a sunnier note, Team Patron was able to start the Funny Car for tens of thousands of fans and received a response of overwhelming excitement by the crowds. DeJoria and her crew chief, NHRA Top Fuel World Champion Del Worsham also had the opportunity to take part in a special media event held at the NASCAR drivers' media center where they sat side-by-side for a media Q & A session.
Related Articles
Share
About Author