Rain cancels qualifying, which means the starting grid for Sunday's 200-lap race at Toledo is set by owner points.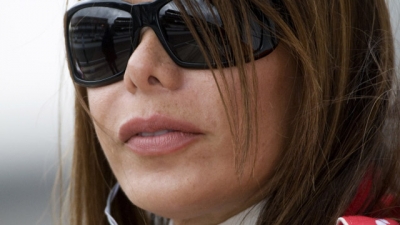 Morning rain throughout the Toledo area caused ARCA Racing Series presented by Menards officials to cancel Menards Pole Qualifying presented by Ansell this afternoon, leaving the field for tomorrow's Menards 200 presented by Federated Car Care to be set by the 2010 owner standings. ARCA rookie Milka Duno will start first.
Duno's No. 63 Sheltra Motorsports entry carries the owner points earned by her team owner, 2010 driver and owner champion Patrick Sheltra. ARCA regulations call for the previous season's owner points to be the reference in any of the first four races of a season; the Menards 200 will be the fourth.
"It always is nice starting up front, but I'd like to know more of the track," Duno said after the first practice today. "I'm still learning the track today. It's my first time here, and in the practice it was really, really difficult. It was tough. It's good that we get some extra practice, but it's tough when it's your first time on the track." 
While Duno will start first, another female raised eyebrows in practice by turning the fastest lap. 19-year-old Kenzie Ruston, called the "best female talent in the country" by Venturini Motorsports general manager Billy Venturini, drove her best of 24 laps in the opening practice in 16.411 seconds (109.683 mph) to top the combined chart over two sessions.
Ruston finished practice just ahead of NASCAR Camping World Truck Series points leader Matt Crafton – making a special appearance for his third ARCA start – and ARCA Racing Series points leader Ty Dillon, who were second and third, respectively.
"This is definitely not expected," Ruston said, surprised. "I knew we were fast. When we came here and tested, we were about the same that we are now, but I guess I thought everybody else would be a little bit quicker. It's very overwhelming for my first ARCA race, but I'm excited. Billy and I are working on the car and getting it just a tad better."
On one of her 24 opening session laps, Ruston had to use every bit of the race track in Turn 2. She scraped the wall and found minor damage in the right rear corner of her No. 25 Toyota.
"I just got a little bit tight and then let off the gas and the wall just kind of sucked me in," she said. "That was my mistake; hopefully, we can keep it in one piece."
Venturini, who believes Ruston can become the first female driver to win in the ARCA Racing Series, was happy.
"I'm very pleased," he said. "I knew she'd come here and be a top-five car. Top of the board, that's awesome. She's the best female talent there is in the country, and we've shown it here pretty quickly. She's going to excel this year. I expect her to do lots of good things, and our goal is to have her be the first woman in Victory Lane in the ARCA Racing Series."
Scott Bross, of nearby Temperance, Mich., will start second in the No. 77 Cunningham MotorsportsDodge. The No. 77 car finished third in owner points last year with driver Tom Hessert; last year's second-place entry, the Eddie Sharp Racing No. 81, is not entered at Toledo this weekend. Bross's start will be his ARCA Racing Series debut. Last week, he raced at Toledo in ARCA's weekly Sportsman class.
Frank Kimmel (No. 44 Ansell/Menards Ford) will start third, and Ruston will start the race fourth.
Matt Merrell will start fifth, and Dakoda Armstrong will start sixth. John Stancill, who like Ruston will make his ARCA debut for Venturini Motorsports, will start seventh, ahead of Tim George Jr., Bryan Silas, and Grant Enfinger.
Chris Buescher will start 20th. Last season, Buescher won both races at Toledo Speedway, taking the May event from the pole and then winning from the 23rd position in September, when qualifying was also cancelled because of inclement weather.
Dillon and Crafton will start together on the 12th row, 23rd and 24th, respectively. Crafton assumed the Truck Series points lead with a third-place finish last night at Dover International Speedway, and then took a 6:45 a.m. flight from Philadelphia to Detroit and drove down I-75 with his ThorSport Racing crew to be prepared for the 11 a.m. driver meeting. He will drive Kimmel Racing's No. 88 Messina Wildlife Management/Menards Ford.
The 200-lap, 100-mile Menards 200 presented by Federated Car Care will begin at 2 p.m. Sunday.

Related Articles
Share
About Author