Courtesy of SBNation.com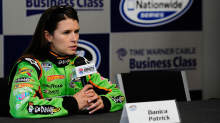 by Jeff Gluck
Despite finishing a career-best 21st, Danica Patrick was disappointed and a bit frustrated after the Charlotte Motor Speedway Nationwide race on Friday night.
Patrick, in her ninth NASCAR start, bested her previous top result of 24th (at Chicagoland). But she finished two laps down and struggled to run as well as she did at Fontana (where she was headed for a top-20 finish before being wrecked).
"It's my first time here, and I think I need to keep in perspective what happens when I go there for the second time versus being there for the first time," she said. "I've definitely had worse outings the first time at a track. I'll take this and we'll learn from it and be ready the next time we come back to Charlotte."
Patrick said she was frustrated at how the race results have unfolded for her this season: When there's a chance for a good run, she has a wreck (like at Fontana); when she finishes the races, they're usually the "pretty average" runs.
"That's disappointing, because I feel like we're better than this, and I feel like I have had better weekends than finishing a 21st or a 24th," she said. "Unfortunately, we don't have the results to show for it and that's all there is to it."
Despite the 30th-place Fontana finish, Patrick said she had a better car one week ago than on Friday night at Charlotte. She said the feeling of being "relaxed" was the same, though.
"Tonight, we didn't have as good of a car, but I was still managing it and still calm and still able to read all the numbers to them with the oil and water (gauges)," she said, "and still be able to check my mirrors and know where I was at and know what I was doing.
"I felt calm like last weekend, I just didn't feel like I had the car underneath me to go."
The highlight of Patrick's Charlotte weekend was likely the two days of practice. On Wednesday during a new car practice session, she said she was "keeping up" with Carl Edwards and Kevin Harvick by the end of the day – a big accomplishment for a NASCAR newbie – and was second on the practice charts the night before the race.
And, she said, "There were some things in the race that were good" – like not wrecking.
"Shoot, just finishing all 200 was a good thing," she said. "I got 200 laps underneath my belt and I'm sure I'll be better the next time I come back."
Related Articles
Share
About Author