OK now that everyone has given up on their New Year's resolution let's do something we all can be proud of to save lives! It is simple and easy to do. Just don't text and drive! And don't drink and drive!
Recently I have been moved by the high rate of deaths from teen's texting while driving. Along with their lives they are taking many innocent lives. Recently a mom and infant daughter were killed when a teen driver carelessly texted while driving. Along with this, 5 teens were killed in New England while driving on the way to a family cabin while the driver was texting. All of these senseless deaths!

I recently was honored to be a quest ride along with an Arizona Department of Public Safety as part of the DUI task force. I was amazed at the number of people we were able to pull over in a 12-hour shift (5PM to 5AM). One driver passed us going 125 mph! Once we caught up to the vehicle the man was highly intoxicated and was taken to jail. One of our accident calls was a lady that had hit a wall while being intoxicated. Her injuries were lethal! Along with destroying your own life you are putting other lives at stake too! We must remember that when behind the wheel of car we are driving a 2-ton weapon!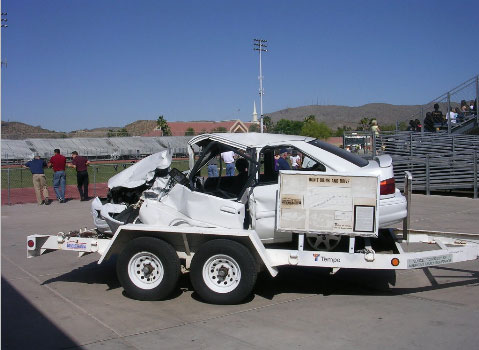 After 10 years racing experience, I currently drive a NASCAR K&N Pro Series West car. On the track I race under controlled conditions with many safety devices. I wear a fire suit, helmet, and Hanns device to secure my head and neck from breaking. I have a rescue team near by at all times. I have every safety device needed for any race situation. I save my entire racing and high speeds for the track. On the real road and everyday life, things are not so controlled and set up to have safety at your fingertips! I always have to be aware of road safety. There is never time for distractions or errors. I am always sure to wear my seat belt, obey all traffic signs and signals while obeying the speed limit. These things are vital to safety behind the wheel. A loss of life is just not worth it! When I am out on the public road I am sure to maintain legal speed limits, never use my phone for any kinds of communication and never drink and drive.

I want you to make a pledge:
• Never drink or use drugs while driving
• Never talk on cell phones while driving
• Never apply makeup
• Always use your turn signals
• Always obey all speed signs
• Always wear your seat belts
• NEVER EVER TEXT MESSAGE while driving
Believe driving is a privilege and we should all use common sense. Cars can be 2-tons weapons and should be handled with respect! So make the promise and pledge!
Related Articles
Share
About Author