Courtesy of Motorsport.com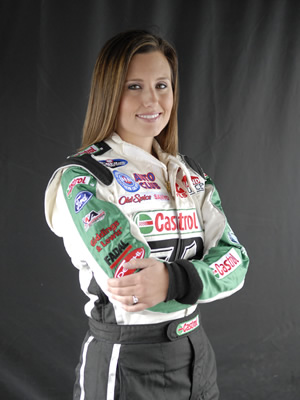 CHARLOTTE, N.C. – Energized by a repeat victory in the Mac Tools U.S. Nationals at Indianapolis, drag racing's oldest, largest, richest and most prestigious single event, Ashley Force Hood tries to take another step toward an historic Full Throttle Funny Car championship this week when she returns to zMax Dragway for the third annual O'Reilly Auto Parts Nationals.
The 27-year-old daughter of Funny Car points leader John Force rolls her Castrol GTX Ford Mustang back onto the all-concrete surface at zMax in fourth place in the driver standings, little more than three racing rounds behind her famous father.
Already the first woman to race in an NHRA Funny Car final, the first to win an NHRA Funny Car race and the first to lead the Full Throttle points, the graduate of Cal State-Fullerton now is poised to add "first female Funny Car champion" to a growing competitive resume.
Surprisingly, Force Hood is reluctant to embrace such gender distinctions.
"Obviously, I'm a girl driver and I love girl power and all that stuff," she said, "but I have twelve guys that work on my team (and) they are just as important to our success as I am. I drive the car, but they are the ones that put it together.
"Ron and 'Guido' (crew chiefs Ron Douglas and Dean Antonelli) get the tune up just right, round-after-round," she explained, "(and) it's because of them and the rest of my guys that I've been successful. Together, we're a great team.
"They give me a really good, consistent race car and I do my best to work on my reaction times and keep it in the groove. Each round is really a learning experience. I just try to learn from my mistakes and get better every week."
It's a simple strategy, but one that seems to be working. Borrowing a page from brother-in-law Robert Hight's playbook, Force Hood surged from eighth to fourth in points on the strength of her second straight victory in the U.S. Nationals, which this year is the first of six races in the 2010 Countdown to 1 playoffs.
Among those she passed was Hight, who after getting the last qualifying position, mounted a worst-to-first title run in which he drove the Auto Club Ford to victory in three of the six playoff races including the O'Reilly Nationals.
"Last year, Robert showed that if you can just make the Countdown, anyone can win the championship," she said. "We struggled earlier this year but we kept remembering what the Auto Club team did a year ago. That was our motivation." Although she finished second in 2009, Force Hood would have won the championship under the system the NHRA employed to crown champions prior to 2007. This year, though, she has a new perspective.
"We were hating the points structure last year," said the former high school cheerleader, "but we're loving it this year. You get a second start to your season (when the points are adjusted at the end of 17 races). We went into (Indy) saying, 'let's put the past behind us' and it happened."
Until Indy, her high water mark for the season was a runner-up finish to her dad in the controversial 4Wide Nationals contested earlier this year at zMax.
With the return this week to the more traditional two-wide format, she hopes to maintain her playoff momentum.
"It's all about these next five races," she said. "The Countdown gives you a chance – and that's all you can ask for."
-source: jfr
Related Articles
Share
About Author