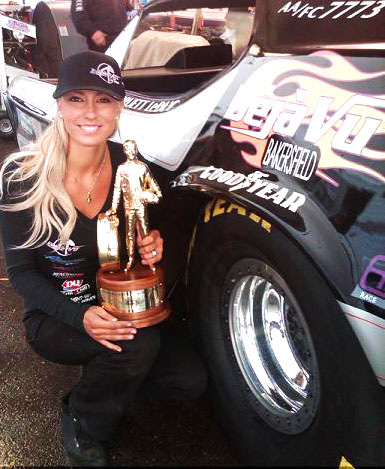 CHARLOTTE (April 9) — It's considered common etiquette to never ask a woman about her weight, but Leah Pruett is quick to offer that the extra 50 pounds she's carrying into zMax Dragway for this weekend's Pro Mod Drag Racing Series event presented by ProCare Rx at the third annual VisitMyrtleBeach.com NHRA 4-Wide Nationals could be the biggest obstacle she faces as she tries to defend her race title from last fall.
No, the slender Pruett hasn't been slurping down milkshakes and stuffing her face with french fries since her big win here on Sept. 18. The 50 pounds she's referring to was added to all the turbo-charged racecars in the category in an effort to level the playing field in a class that features turbo, supercharged and nitrous racecars.
"We came in here last year with a brand new car that had just won the U.S. Nationals and was basically just crushing everybody," Pruett said. "All I had to do was not screw anything up. It was a challenge because I'd only made four passes in a turbo car and the starting line procedure takes some practice but we got it done and won the race.
"This time is totally different. I'm a lot more comfortable in the car and my mindset is more on cutting good lights, going rounds and earning as many championship points as I can. But at the same time, even though we may have won the last race here, the extra weight we're carrying and the way the blown and nitrous cars ran in Gainesville, I feel a lot like an underdog."
Compared to many of the other drivers in the class, Pruett is still wet behind the ears, having raced in just five national events in the Pro Mod class. But she's won two of those races and has an overall elimination record of 13-3.
"I have plenty of confidence in Brad (Brand, crew chief), this team and my driving ability," said Pruett, who is currently third in the points after a semifinal showing at the season opener in Florida. "I just have this thing in my head that we only have 10 races on the schedule so we can't make a bunch of mistakes. I don't want to let this get away from us.
"We tested both cars at this track a few weeks back and although no one was running world record numbers we did pretty well. (Team owner and teammate) Roger (Burgess') car was quickest and I think we were second or third overall. There were a lot of Pro Mod cars testing and everyone was bunched up on the time sheets.
"It's pretty hard to pick a favorite. I think it's going to be a great race for the fans."
Aside from racing their cars, Pruett and Burgess will headline a pair of autograph sessions to be held during the event at the ProCare Rx hospitality area in the pits. The first is slated for 3 p.m., Friday, and the second at 2:30 p.m. on Saturday. Several of the top Pro Mod drivers in the sport are scheduled to attend. Pruett also will visit the Kids Zone Pavilion at 10 a.m., Saturday.
Qualifying action begins just after noon Friday.
–30–
Contact: Geiger Media at 832-971-9345 or rob@go2geiger.com.
Please visit www.R2B2Racing.com for more information.
Related Articles
Share
About Author