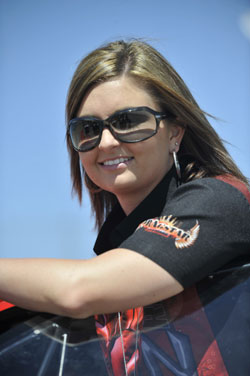 READING, Pa. (Oct. 2) – ZaZa Energy Pro Stock driver Erica Enders will have to wait a day before facing national record holder Jason Line in the second round of the Auto-Plus NHRA Nationals at Maple Grove Raceway.
Enders won her first-round matchup over fellow Countdown driver Shane Gray on Sunday, but light rain halted the day's activities before the second round of Pro Stock.
"The Pro Stock fans have always been great here in Reading," Enders said. "The stands were packed this morning for the first round. When we were in the staging lanes, there was still a line of traffic as far as you could see to get in here. For them to come out on such a cold, rainy day just shows how much they love this sport and watching us, and we can't thank them enough for their support."
Enders, who qualified No. 8, made a lap of 6.559 seconds at 211.26 mph to beat Gray. She'll face Line, who set the class record of 6.483 seconds at 212.23 mph in beating Bob Benza in the first round.
Eliminations are scheduled to pick up at 10 a.m. EDT on Monday.
"It's been a long, wet, really cold day," Enders said. "Tomorrow looks to be the same. It looks like there's a break between 10 and 2, so we should be able to wrap it up tomorrow. These fans around here are so dedicated that I'm sure they'll be back tomorrow, too."
–30–
Contact: Lee Montgomery at 704-258-0903 or lee.montgomery@zazaenergy.com.
Please visit www.ZaZaEnergy.com for more information.
Related Articles
Share
About Author