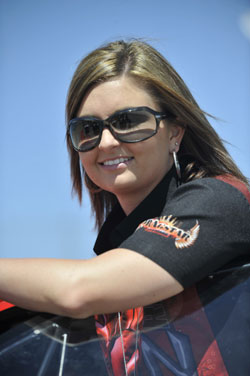 INDIANAPOLIS (Aug. 29) – Some of NASCAR's biggest races have been won by first-time winners this season, from Trevor Bayne in the Daytona 500 to Paul Menard in the Brickyard 400.
Could ZaZa Energy Pro Stock driver Erica Enders follow the same path in NHRA's Full Throttle Drag Racing Series?
Coming off her third final-round appearance of the season in the series' most recent race in Brainerd, Minn., Enders will gun for her first career victory in this weekend's 57th annual Mac Tools U.S. Nationals presented by Lucas Oil at Lucas Oil Raceway.
"The U.S. Nationals is the most prestigious race of the year," Enders said. "It's our Super Bowl. I grew up knowing that even before I started driving from when my dad raced. I've known what it meant for a long time."
Enders' father, Gregg, raced when Erica was a little girl, so she knows all about the history and tradition of drag racing's oldest race.
Now in the midst of the best season of her career, Enders' dreams of winning Indy could become reality. In addition to the three final-round appearances, Enders has qualified No. 1 twice and won at least one round in 13 of the season's 15 races.
Could the first win come in the biggest race of the year?
"I know it's within reach," Enders said. "We're going to test before we get there, we've got the horsepower, and we've got a good a shot as anybody to do it. Would it be surreal? Absolutely. But is it out of reach? Not at all."
Enders own experiences at the "Big Go" go back 17 years.
"Indy's been an important part of my life since 1994 when the held the inaugural Jr. Dragster Nationals there," Enders said. "At that first race, I finished second. It's a place I've been going to since I was 10 years old. It's always been huge. I'm excited to go back."
Enders' Cagnazzi Racing Chevrolet has moved up to fifth in the Pro Stock points standings, with Indy the final race before the Countdown to the Championship begins.
"This year, I'm really optimistic about the rest of the season," Enders said. "We've got a really consistent race car, which is awesome to have in Pro Stock. I have a great team."
The group also has additional support from Toreador Resources Corporation, which recently merged with ZaZa Energy. The two companies are heavily involved in the oil and gas sector.
Pro Stock qualifying begins at 4 p.m. Friday.
–30–
Contact: Lee Montgomery at 704-258-0903 or lee.montgomery@zazaenergy.com.
Please visit www.ZaZaEnergy.com for more information.
Related Articles
Share
About Author