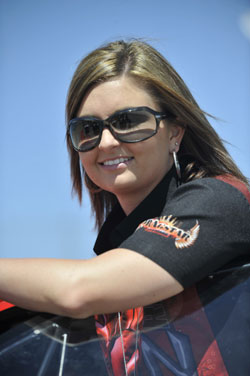 DALLAS (Sept. 20) – ZaZa Energy driver Erica Enders will be glad to race in her home state this weekend, even though she knows Texas Motorplex can be a demanding race track for a Pro Stock car.
Enders is from Houston, but she'll have plenty of support for the AAA of Texas NHRA Fall Nationals this weekend. ZaZa Energy, based in Houston, will be in full force at the Dallas area track, as close to 100 employees and family members will be in attendance.
Plus, Enders has lots of fans in her home state, too.
"I love Texas. There's no place like Texas on the planet," Enders said. "To go back home and be in front of friends and family is great. ZaZa is a Texas company, and we'll definitely come out swinging there. All the ZaZa guys will be there, and we'll have them all right there in the pit in our hospitality area."
Enders and her Cagnazzi Racing team will have to battle the Texas heat, as well as the difficult concrete of Texas Motorplex. That opens up the race to the Pro Stock team that adapts the best.
"It's a very narrow groove," Enders said of the track. "There's no margin for error and no driving around there. You have to stay in the groove if you want to do well. It's anybody's race."
Enders remains solidly in the hunt for the Countdown to the Championship. She's fifth in the points standings, 83 behind leader Jason Line.
The most recent race, at Charlotte, was a difficult one for championship contenders. Non-Countdown driver Kurt Johnson won the race, one Countdown driver failed to qualify, three drivers went out in the first round and four more lost in the second round.
Enders is gunning to become the first female to win a Pro Stock race, and she's come very close this season. In her best season as a pro, Enders has reached three final rounds, two semifinals and has qualified No. 1 twice. Plus, Enders has an NHRA-best five holeshot victories.
"The championship is still very much in reach," Enders said. "The best way to win the championship is to win races, and we're working very hard to get the ZaZa Chevy into victory lane. I'd sure love to get the first one in Dallas."
Qualifying is slated for 2:15 and 5:15 p.m. on Friday, and for 11 a.m. and 1:30 p.m. on Saturday. Final eliminations will begin at 11 a.m. on Sunday.
–30–
Contact: Lee Montgomery at 704-258-0903 or lee.montgomery@zazaenergy.com.
Please visit www.ZaZaEnergy.com for more information.
Related Articles
Share
About Author