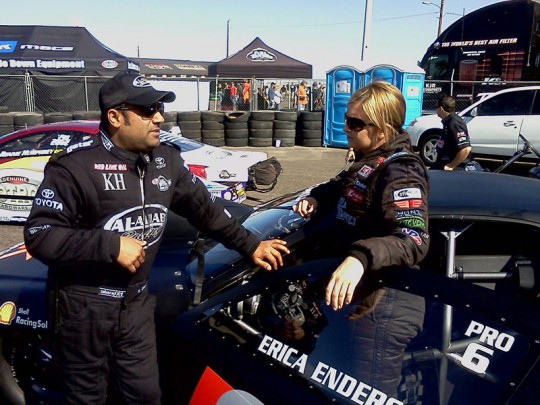 PHOENIX (Feb. 19) – Erica Enders and her Cagnazzi Racing team righted the ship this weekend at Firebird International Raceway, making four solid qualifying passes and advancing to the second round of Sunday's NHRA Arizona Nationals.
There, Enders ran into the buzzsaw called Pro Stock champion Jason Line, who made the low run of the entire round to take the win light.
"We were consistent through qualifying, so that's a plus," Enders said. "We've just got to do a better job and get higher in the field so we can avoid the No. 1 or 2 guys in the second round. Lane choice at this track is important. My car was all over the place in the second round."
Enders and her team bounced back from a difficult race in Pomona, Calif., to make three qualifying passes within .009 seconds at Firebird, and then she surged to the No. 7 spot with a run of 6.567 seconds.
In the first round of eliminations Sunday, Enders left first and made a pass of 6.581 seconds at 210.54 mph to knock out Steve Kent. Only three cars had better elapsed times than Enders in the first round.
"It was decent," Enders said. "We made a decent run, and I was OK on the tree. We both could've done better, but we got the win."
One of the cars who had a better ET was Line, who had lane choice for the second round. That turned out to make a big difference.
"We came back to tune it up for the next round, and we knew Jason had lane choice," Enders said. "He took the left lane in the first round, and it bit him, so he put us over there in Round 2. It bit us. That's the way it goes."
Enders made a pass of 6.610 seconds at 209.10 mph, not enough to overcome Line's 6.561 at 211.36 mph. The engine in Enders' Chevrolet also made a loud pop as she was about to start, slowing her usually fast reaction time.
"After I staged and ducked the throttle, there was a huge pop," Enders said. "The car shot flames out. It happened right at the wrong time. Not making excuses, but it's amazing how one thought that's not supposed to be there can cost you five-hundredths of a second on the starting line mentally. It's unfortunate, but I guess if you have to take a positive from it, if I was a perfect .000, we still weren't going to beat him."
Before that light, Enders had the second-best reaction time in the class across qualifying and eliminations, .030 seconds.
Enders continues is enthusiastic about the 2012 season after a good showing in Phoenix.
"We have something to work with," Enders said. "We're going to go test in Bradenton before Gainesville. The good news is it's early in the season, and thanks to the Countdown, we should be able to catch up. On to the next one."
–30–
Contact: Lee Montgomery at 704-258-0903 or lee@go2geiger.com.
Related Articles
Share
About Author