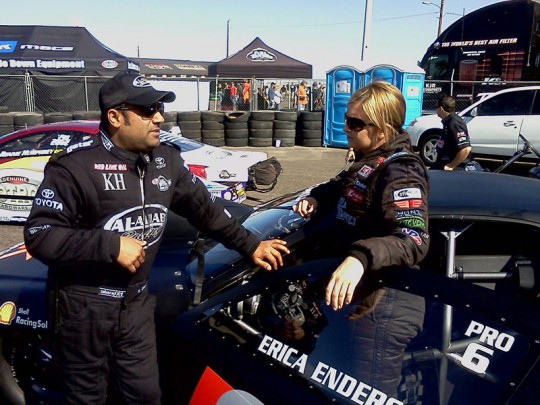 GAINESVILLE, Fla. (March 6) – Erica Enders set the Pro Stock national speed record last March in Gainesville, going 213.57 mph in her Chevrolet Cobalt. That record still stands a year later as Enders and her GK Motorsports team prepare for the 42nd annual Tire Kingdom NHRA Gatornationals at Auto-Plus Raceway. Pro Stock's best drivers took a shot at Enders' mark throughout the 2011 season, as well as the first two events of 2012. But none have gone faster.
"We're very proud of that record," Enders said. "We want to hold on to it as long as possible. Weather-permitting this week, I'm sure it'll get busted. I hope it's by us.
"It's been nice to hold on to it for a year. That's something you don't see happen a lot in this class. I was proud to carry it, and we're hopeful it'll stick, or that we can reset it when the weather and the race track are ideal."
Enders and her Cagnazzi Racing team, led by crew chief Dave Connolly, are spending two days testing in Bradenton, Fla., in preparation for this weekend's race. The memories of last year's record-setting performance are still fresh in their minds, but they hope to make new memories this weekend.
Some may also remember Enders' victory over NASCAR star Kurt Busch at Gainesville last year, as Enders dispatched the past Sprint Cup champion in the first round of eliminations.
"I'm excited to go back," Enders said. "I'm hopeful we can improve on last year's performance. We set the speed record, we beat Kurt, but we lost lane choice for Round 2 and that cost us. We're just going to have to figure some things out in our test in Bradenton. We need to keep the consistency and go some rounds."
It may be a little too warm at Gainesville this weekend to set any records, but the track will still be quick. That's not the only reason why the 28-year-old Enders likes racing at the famed track.
"It's one of Pro Stock's favorite races because the people there are true Pro Stock fans," she said. "They sell out the race every year, and it's just a fun environment because the fans are really into it. I'll probably sign 10,000 autographs this weekend."
Gainesville was also the site of Enders' second career final-round appearance, though she had problems that round and lost to Tom Martino in 2006.
"We blew the tires off the car – tried to rotate the Earth," Enders said. "That was the worst tire shake I've ever had in my life. We broke the transmission mounts, battery mounts, bell housing, back glass. It made my gums bleed. It was terrible. We weren't winning that race, that's for sure.
"Still, it was a fun experience to go to the finals. We know what we're doing now. We can definitely get it done. It just has to be our day."
Qualifying rounds will be held at 11:30 a.m. and 2 p.m. on both Friday and Saturday with eliminations slated to begin at noon Sunday. ESPN2 will show qualifying highlights from 5-6 p.m. Sunday with eliminations airing from 6-9 p.m. Sunday.
–30–
Contact: Lee Montgomery at 704-258-0903 or lee@go2geiger.com.
Related Articles
Share
About Author