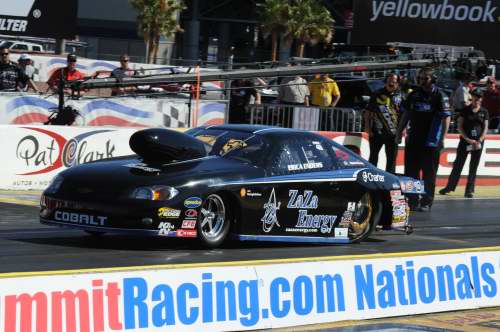 BRADENTON, Fla. (Jan. 16) – Erica Enders and the ZaZa Energy Pro Stock team will get back to work this week.
Enders and her talented crew from Cagnazzi Racing will test at Bradenton Motorsports Park, Monday through Friday, in preparation for the upcoming NHRA Full Throttle Drag Racing Series Pro Stock season.
Dave Connolly returns for his first full season as Enders' crew chief, and the duo will have a completely redone Chevrolet Cobalt at their disposal. Enders will carry No. 6 as part of a new paint scheme on her Chevy Pro Stock.
The NHRA season kicks off Feb. 10-12 with the O'Reilly Auto Parts Winternationals at Auto Club Raceway in Pomona, Calif.
Testing, Enders said, is "really important" to the start of the season.
"All winter long, they try to find more horsepower and things in different areas of the car," Enders said. "We have a daily list of things we want to work on, and it's a very tedious process and very technical.
"We'll have one setup, and then we'll change one thing, and then we'll change another. We've got to figure out the best all-around package. It's a lot of work – way harder than racing."
Enders plans to make several passes each day as the team tries to find more speed.
"We're looking to accomplish our list and see where we've gained in relation to last year," Enders said. "There will be a lot of other Pro Stock cars out there to compare to, but at the same time, you really don't know what they're running or trying. We're just comparing to what we had last year.
"It's awesome to have ZaZa Energy's continued support. I love Gaston Kearby and the rest of the guys up there. I owe them everything, and starting this year I'm going to be paying them back with some wins."
–30–
Contact: Lee Montgomery at 704-258-0903 or lee.montgomery@zazaenergy.com.
Please visit www.ZaZaEnergy.com for more information.
Related Articles
Share
About Author