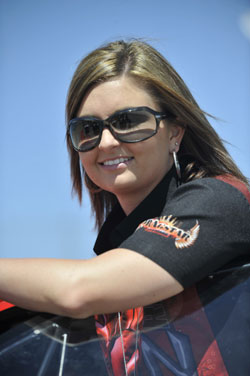 HOUSTON (May 1) – Most racecar drivers don't take losing well, and ZaZa Energy Pro Stock driver Erica Enders is no exception.
Carrying high hopes into her hometown race, Enders was knocked out in the second round of the 24th annual O'Reilly Auto Parts NHRA Spring Nationals at Royal Purple Raceway by her Cagnazzi Racing teammate and fellow Houstonian Rodger Brogdon.
Brogdon posted a 6.642-second, 208.97 mph run to edge Enders' 6.648, also at 208.97 mph.
"Super frustrated," Enders said. "It's just an unfortunate deal. Brogdon's my teammate, and I'm happy for him, but it sucks we got beat. At least one of us is going to the next round with Cagnazzi horsepower. He's a Houston boy as well. Dang, I wanted this bad."
Royal Purple Raceway is Enders' home track, as she grew up in the Spring area of Houston. Enders won a national event in Super Gas and numerous sportsman and Junior Dragster races at this track, so she carried a lot of confidence into the race weekend.
That confidence carried over to Sunday after Enders ran the fastest times in both Pro Stock qualifying sessions on Saturday when the weather was nearly the same as Sunday. Enders then beat Allen Johnson with the quickest run of first elimination round — 6.629 at 208.97 mph — to advance to the quarterfinals.
"It's a big challenge to get to the point where you have the quickest car of any given round," Enders said. "I'm very blessed and grateful for that. The good news from this whole weekend is we were the quickest of several different sessions.
"In that race against Brogodon, we had two or three hundredths (of a second advantage) easy. We just missed the setup a tiny bit and didn't help things when I missed the tree. But we win and lose as a team, and this week we lost, unfortunately."
Enders is determined to learn from her experiences here to gear up for the next NHRA Pro Stock event, the Summit Racing Equipment Southern Nationals, May 13-15 at Atlanta Dragway.
"I'm going home and getting my butt back in the gym, and I'm also going to hit that (drag racing) simulator until I'm perfect," Enders said. "I was batting 1.000 all year and never got left on. That makes it burn all the more because everybody knows I'm a leaver – and Brogdon left on me. All I can do is not make the same mistake again. I'll go home and work hard at it. I'm going to come out in Atlanta swinging, mad swinging.
"It's hard to swallow. I'm pretty sure I wanted this worse than anybody else in the world. I sure as hell do work hard at it, and so do my guys. We're going to get there. I know we are. I'm positive; as positive can be. Coming off a loss like that at your home track, there aren't really words to describe the disappointment. But we've got Atlanta in two weeks, so we'll have another chance."
–30–
Contact: Lee Montgomery at 704-258-0903 or lee@go2geiger.com.
Please visit www.ZaZaEnergy.com for more information.
Related Articles
Share
About Author