Courtesy of LeahPruett-Leduc PR
The 2010 NHRA Hot Rod Heritage Series Championship in Nitro Funny Car was clenched by Leah Pruett- LeDuc at the California Hot Rod Reunion, October 16, in Bakersfield CA. After winning the season opener in Bakersfield at the March Meet, Leah maintained a steady lead in the points throughout the season, and was able to wrap up the championship by winning the second round at the CHRR.
The Plueger & Gyger/ Deja Vu nostalgia funny car made it to the final round at the CHRR in Bakersfield, however the weather decided the final round was ment for another time, and place. Due to a rain out, the final rounds of Top Fuel and Funny Car will be held at the NHRA World Finals in Pomona, CA, November 12-14 to crown the CHRR winners. Leah Pruett- LeDuc will face Mark Hentges in the final.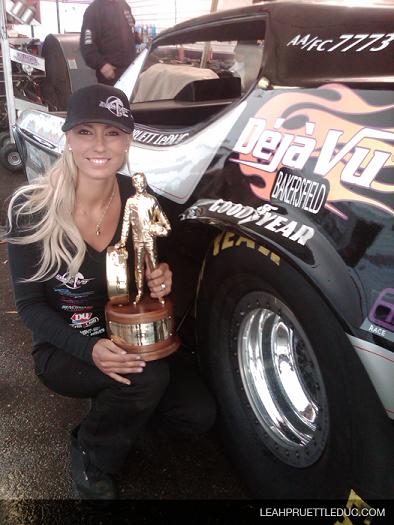 "I am extremely excited about running the final round at Pomona at the National event. I hope to make the 2010 season come full circle with our win at the start, and win at the end. The Championship alone is sweet, but to end the season with a win will be that much sweeter." said Pruett-LeDuc. "Although this is the third championship win in a row for the Plueger Team, we really worked hard for this one. This year we were not the fastest or the quickest on the track like we were previously, but we still got it done. There are many people to thank, but must of all Deja Vu Showgirls for their support of me throughout the entire season, and enabling me to race these races to win the championship. I would also like to thank Steve Plueger, my crew chief Paul Trabue, the team, as well as RCD Engineering, Benchmark RV, Dairy Queen, Clevite, and Lucas Oil."
You can visit Leah online at LeahPruettLeduc.com
Related Articles
Share
About Author