View original story HERE.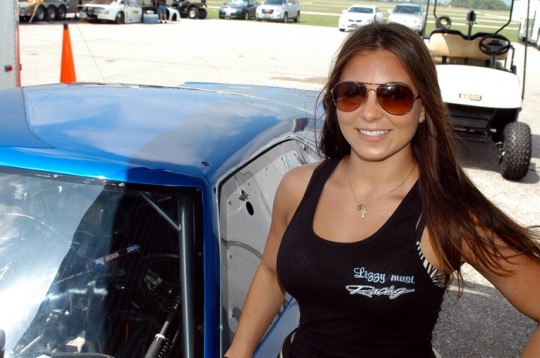 WRITTEN BY IAN TOCHER.
Pitted directly between Top Sportsman veterans and past champions Ronnie Davis and Earl Folse at the ADRL CarSafe Dragpalooza VIII was the youngest and least experienced driver in the field—but with one of the most famous last names on the grounds at Royal Purple Raceway—as 21-year-old Lizzy Musi made her door-car competition debut.
In fact, her last time racing was nearly five years ago at the wheel of a Jr. Dragster and heading into the ADRL season opener, the New Jersey native had only about two dozen total test runs in team owner John Lee's 1969 Camaro with a nitrous-boosted, fuel-injected, 762-cubic-inch engine built by her doorslammer legend father, Pat Musi. Her crew members include brothers Randy and Keith Auwarter.
"I've already been pretty quick in it; 4.25 is the best I've done so far. And I'm really having a lot of fun, which is the main thing, but I really couldn't do this without my family and crew," Musi said after qualifying fifth at the Baytown, TX, strip.
"Everything is just coming to me, which I guess I got from my dad and how he's been teaching me and just from watching so many runs throughout my life. All I'm doing is listening and whatever I'm told to do, I just do it."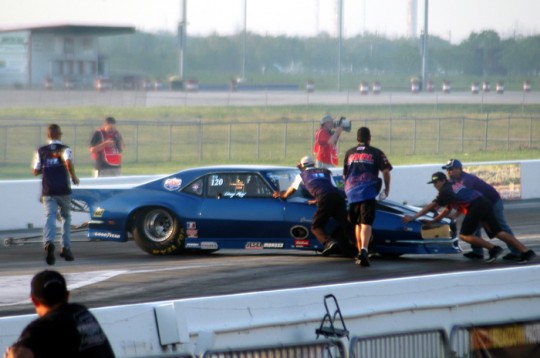 The younger Musi strapped a holeshot on first-round opponent Ricky Adkins when eliminations began and ran just one thousandth over her 4.32 dial in to seal the deal as Adkins broke out. Her second round against Folse didn't turn out quite so well, however, as she lost control of the Camaro on the burnout and wound up sideways and straddling the center line about a hundred feet out.
Fortunately, Musi suffered no contact with the wall and her crew and track personnel quickly turned the car around and pushed it off facing the starting line from which it came. She was visibly angry upon emerging from the car, while Folse made his solo run into the semis.
"I was mad, but I was also embarrassed," Musi later admitted. "But something happened with the chip that's supposed to control the RPMs for the burnout. I don't know if it wasn't turned on or something went wrong with it, but I heard and felt the engine just keep going up and I tried to ease out of the throttle, but it just got away from me. I was mad because I wanted to go a lot farther.
Though obviously disappointed, team owner Lee said he was happy Musi didn't get hurt and all four corners were still intact as the car went back in the trailer.
"She qualified well, won a round and probably learned something there," he reasoned. "All in all, not really a bad weekend. We'll load it up and take it to the next race."
Related Articles
Share
About Author