Ashely Force Hood documents her diary for the race season on USA Today, here is her latest introducing her Funny Car team..
By Ashley Force Hood, special for USA TODAY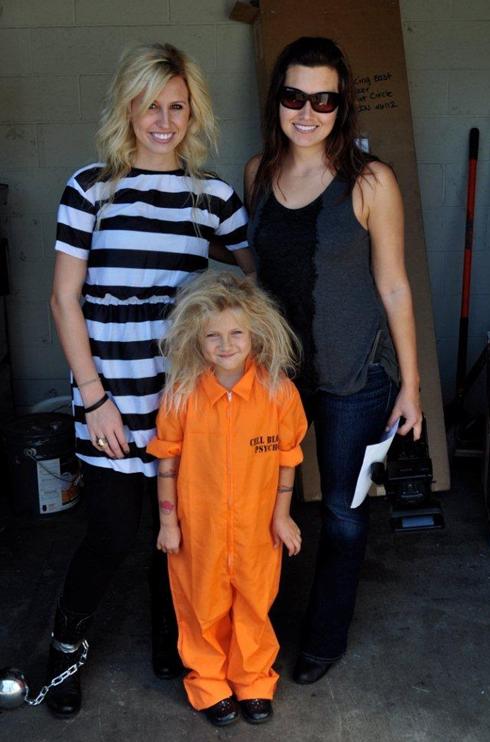 We call my Castrol GTX Ford Mustang Funny Car team D Team. They are a group of eleven very talented men who helped me to win two Mac Tools US Nationals in a row and finish second last season in the 2009 NHRA Full Throttle Championship. Most importantly, since I trust these guys with not only my life, but also my two cats from time to time, I thought it would be important and fun to introduce them to our racing fans!
Let me start with Dean (Guido) Antonelli. He is my crew chief and began this new team with me back in 2007 from scratch. It's amazing how far we have come as a team in four years. He motivates all of us to do our jobs to the best of our ability but doesn't get down on us if we make a mistake. He knows that there is a learning curve involved in funny car racing which takes a lot of pressure off of us which makes us better!
Guido's wife Kelly works in our marketing department and orchestrates all of my appearances, travel plans and race schedules. Without Kelly, I would be standing in some airport without a boarding pass. Guido and Kelly are a very important part of our team because they seem to help keep all of us organized and sane. This is surprising, because Guido actually worked for my crazy father John Force for 12 years before getting the opportunity to run his own 8,000 horsepower nitro burning funny car. Imagine the excitement of finding out you will be running your own team! But then he found out he was going to be stuck with me, a rookie driver and the bosses kid, known for locking her keys in her car and setting things on fire in auto shop.
Ron Douglas is cool. Think Motley Crue and Queensryche. Now add a Castrol GTX uniform. This guy loves Rock & Roll. He is one of the few crew chiefs in our sport who actually turns the radio music UP in the pit area. It has become a tradition for us to listen to "Let's Get It Started" by Black Eyed Peas during our warm up. He is married to Mandy, who is also very cool, and has two adorable kids, Warner (the football stud) and Ella (I believe the phrase "cute as pie" was named after her!) Ron runs our team alongside Guido and the two of them together are very talented and fun to work with.
Andy Bissett is from England, and you'd know that from the moment he said hello. We love to kid with him because whenever he curses or gets upset, it's in "English" format, so I've heard a few "That's Rubbish!" shouts when things don't go as planned. I met Andrew when he came to work for my team on the Darien & Meadows A Fuel Dragster in 2006. I have worked with him longer than anyone else on our team. He does the clutch, which is a very dirty job because of all the clutch dust, and he loves to visit with my cats when they're in the lounge, so I blame him for the questions I get from the vets when I take them in for baths.
Brian Benedict, oh, dear Brian. He is what I would call, a ladies man because every lady who meets him is suddenly hooked. He is a wonderful guy, and leads the team alongside Andy, but he is a true teddy bear at heart. His daughter Sydney comes to some of the races and will ride up with us to the starting line to bring us luck and add a little girl power to the mix. Brian does ignition for our team and we call him Fire Arms because of his elaborately tattooed arms.
I have known Matt Archer since before I started racing even though we are practically the same age. He started working for my dad in 2002 and then moved over to my team a few years back. He used to belt my dad in to the race car and I'm proud to say that he has told me on many different occasions how much easier I am to work with when it comes to suiting up and belting in. My dad likes to wait until the last possible moment to get in (ex: when he's the next pair) and moves and talks the whole time they try to buckle him in! I, on the other hand, get in five to six pairs ahead, and sit perfectly still with my arms up to make it as easy as possible for the belts to hook in. Matt does the cylinder head on my Mustang funny car.
Matt Madden actually worked for our competitor, Del Worsham, before coming to our team so we like give him a hard time about that! He does racks and manifold and is very down to earth and just a friendly type of guy. His mother has her own jewelry business and has made me some which I live in… unless I'm wearing my helmet. His girlfriend, Cassie competes in the Alcohol Funny Car category so it's exciting to hear over the track loudspeaker how she is doing during our events as well.
DJ Minter is the goof ball of the team. He is from Kentucky and definitely a country guy. He says the funniest things and always keeps us laughing. He does the blower on my funny car and works closely with Ron to make sure it's exactly how the chiefs want it to be. I will never forget the day DJ told us he wanted to gravel in his new backyard. We still don't know if he was serious or not.
Alex Conway is the youngest one on our team but he has been involved in drag racing for many years and definitely seems more mature than the rest of us. He does left side cylinder head, and also has a really positive outlook and always finds the silver lining in any situation. He has seen me really mad more than once down track after getting out of the groove or having a bad reaction time, but he reminds me that there is always another race and to enjoy the journey. He sees the bigger picture in life and it's refreshing when our world revolves around four seconds of instant gratification.
Lew Arrington is a legend on our team. He worked for my father's team for 11 years before moving to my team this season. I think this was very traumatic for him (he knew me when I walked around in a side ponytail and overalls) but he has been very gracious and a great addition to our team and does short block and bottom end. He's from Minnesota, home of The Zoo so that may explain why he gets along so well with our wacky bunch.
James Hayes came over from my dad's team this year too and I actually didn't know him that well but he is truly one of the most friendly and easy to like people I have ever met in my life. He is also a licensed EMT which comes in handy at times since there is a lot going on in our pit, and a lot of machines and hot parts in one small area. I'm not going to name any names (Matt Archer) but on a few different occasions we have put James EMT skills to the test. James does tires and body for our team.
Dan Hood is my husband and he actually works for all of our race teams as track specialist alongside Lanny Miglizzi, but I will admit he spends the most time in my pit. First off, he wants to make sure everything is done perfectly safe on my race car, and secondly (and more importantly) he likes to hang out with my team. He knows they do a great job on my car so he comes over to help because he likes us and he's married to me so he has to keep me happy. He has been involved in drag racing for many years and has worked for many different professional teams but none with a driver as cute as me! (OK, I'm the only female driver he's ever worked so I can say that.)
Finally, let me tell you about our team mascots Simba and Gizmo. Yes, they are my cats but more importantly they truly motivate us to give it all we've got both on and off the track. If we don't, they unravel the toilet paper in the trailer lounge, and rip up the curtains. They also love to attack my fire suit (they must like the smell of clutch dust.) They are wonderful mascots and even better pets because they don't care if we win or lose. They cuddle regardless.
Last but not least, is the most important part of our team, the Castrol GTX Ford Mustang Funny Car. She is lean and mean, 8,000 horsepower, has gone 329 miles per hour, belches nitro methane, and has a real attitude problem at times. But for the most part, she is a wonderful car and our D Team hopes to crown her the 2010 NHRA Full Throttle Champion in 6 weeks…
Related Articles
Share
About Author