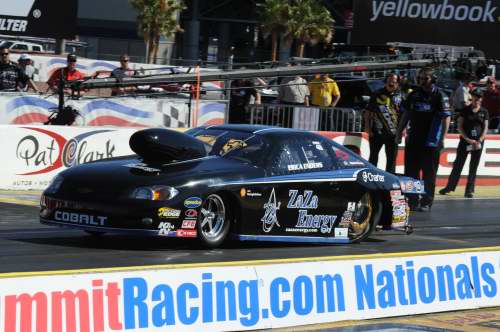 POMONA, Calif. (Feb.

– The pressure is on Erica Enders as she enters the 2012 NHRA Full Throttle Drag Racing Series season, but the 28-year-old driver from Houston wouldn't have it any other way.
Enders had her best season as a professional last year, reaching three final rounds and racing to a sixth-place finish in the ultra-competitive Pro Stock class. She returns with her Cagnazzi Racing team, lead by crew chief Dave Connolly, as she looks to move up the Pro Stock ladder and win her first race in the class.
That assault begins this weekend at the 52nd annual O'Reilly Auto Parts NHRA Winternationals at Auto Club Raceway at Pomona, the season-opener for NHRA competitors.
"Expectations are very high," Enders said. "We're coming off a really good test in Bradenton (Fla.), and it's nice to get back in the car and get back in the swing of things. I can't be more excited to get the season under way."
Enders is the defending No. 1 qualifier for this race, having grabbed the first of her two poles in 2011 at Auto Club Raceway. The most successful female Pro Stock racer in history also had career-bests in runner-up finishes (three), semifinal appearances (four) and won-lost record (28-11).
She hopes to build on that in 2012.
"I feel like we have a lot of unfinished business to take care of," Enders said. "I'm positive my guys feel the same way. It's going to be a cutthroat year – like it is every year – but we've got the same mindset as we did last year. It's every man for himself."
Pro Stock is the most competitive class in NHRA, where races are routinely decided by thousandths of a second. That puts the onus on the driver, something Enders cherishes.
"Pro Stock is absolutely ridiculous with how competitive it is," Enders said. "It's the most cutthroat class out there, where a 16-car field is separated by just a couple hundredths of a second, not tenths of a second, so you've got to be perfect.
"As a driver, you've got to be on the money from the time you fire your car. You have to do the burnout correctly so you don't burn up the clutch, and then you've got to have an awesome reaction time. You've got to hit your shifts and not be late, so the driver's performance is crucial. Every thousandth of a second counts. The more perfect you can be, the more perfect your setup is, the better chance you have at winning.
"I like that. I like the fact that a lot of the pressure is on me. It's tough, it's a hard class. But I wouldn't have picked it if I didn't love it."
Qualifying begins with sessions at 1:30 p.m. PST on both Thursday and Friday, followed by two more rounds at 11 a.m. and 1:45 p.m. Saturday. Eliminations are slated to begin at 11 a.m. Sunday. ESPN2 will carry all the action.
–30–
Media contact: Lee Montgomery at 704-258-0903 or lee@go2geiger.com.
Related Articles
Share
About Author