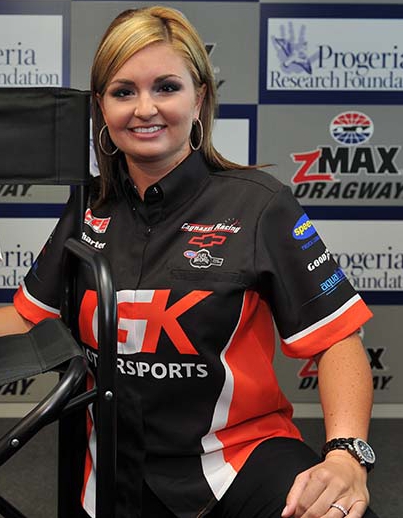 SONOMA, Calif. (July 26) – KLR Group driver Erica Enders has already made history as the first woman to win in NHRA's ultra-competitive Pro Stock class.
This weekend at the NHRA Sonoma Nationals at Sears Point Raceway, Enders would like to make some more history by becoming only the second woman to win an NHRA national event in Sonoma, joining Pro Stock Motorcycle rider Angelle Sampey.
"It would be awesome," Enders said. "It'd be one tick away from being as cool as being the first."
Sampey, who has 41 career victories, won at Sonoma in 2004, and no other female has won a national event in the four pro categories here.
"I was a big fan of hers growing up," Enders said. "We're friends now, and I went to her wedding and her baby shower. She lives an hour away from me. She's a cool Cajun chick and a super-talented racer. She's the most successful female driver in history, so I look up to her a lot.
"I know what she's been through and have a lot of respect for her. To put my name on the list with hers would be awesome."
Enders put her name on the list of Pro Stock winners July 1 at Route 66 Raceway, and she remains the lone female to win in the class. Enders is now looking to get back to her winning ways this weekend.
"I'm excited to go back to Sonoma," Enders said. "I say it all the time, but it's one of my favorite tracks in the whole country. I love the area, I love the wine country and I love the facility.
"We went to the semis there last year, where we had a stupid malfunction and didn't get down the race track against Greg (Anderson), so I'm looking to come back swinging and hopefully do well there. It'll be nice to be back at sea level also."
A victory would also be a birthday present for Brita Cagnazzi, the wife of Enders' car owner, Victor Cagnazzi.
"It'd be great to score a win for her," Enders said. "My GK Motorsports guys will work their butts off this weekend, and my confidence in them doesn't change. We're going there to win the race, and we'll do all we can do get there."
For more information, visit www.GKMotorsports.com.
Related Articles
Share
About Author