Photos courtesy of Auto Imagery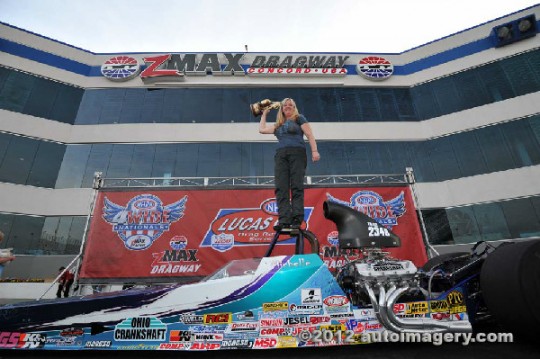 CHARLOTTE, N.C. (April 24, 2012) – When it comes to competing at zMAX Dragway near Charlotte, N.C., Lucas Oil Drag Racing Series competitor Michelle Furr can very nearly do no wrong. Last fall, Furr dominated the Super Comp category there to win her very first national event, and she was also runner-up in Super Street to come oh-so-close to a widely and wildly coveted double victory.
The simple truth is that Furr returned to zMAX Dragway and collected her second national event win at the lauded facility in the recent NHRA Four-Wide Nationals by way of efficient starting line skills and a keen ability to drive the finish line stripe, including a dead-on-the-index 8.90 in round four to earn the Strange Engineering Perfectly Strange Performance Award for the category – a particularly notable fact since she hadn't even competed at a national event since winning last fall. There's no doubt about it: Furr and the prestigious North Carolina racetrack make a wicked combination.
However, the energetic married mom of two from Galax, Va., is anything but presuming. For the Furr family, the repeat win was absolutely a dream come true.
"This was a Cinderella story for us, and my husband Rick and I just feel so fortunate and grateful to God," said Furr. "It really solidifies my belief in our abilities as a team, and the greatest reward was looking in the eyes of my family and seeing how very proud they are.
"Our children, Madilyn and Adiayn, were in the grandstands cheering us on, and Rick – who is completely unselfish and works so hard for all of us so that we can do this – was with me on the starting line. Right before I pulled onto the track for the first round of eliminations, he told me, 'Don't let them forget; this is your house.' By the next day and the last few rounds of the event, the statement had turned into an emphatic question. Rick would ask me right before I pulled onto the track, 'Whose house are they in?' I'd look up at him and smile through my helmet and say, 'My house.' "
Indeed, Furr made herself right at home and staked claim on the victory with a consistent string of seven passes between 8.89 and the 8.90 target in their Ohio Crankshaft 632-powered Undercover dragster. The consistency echoed Furr's fall performance, when she clocked six consecutive runs between 8.89 and 8.90.
The Furr family credits much of their effectiveness on the racetrack to engine builder Stan Ray and his reliable Ohio Crankshaft engines that they run in both the Super Street Camaro and the Super Comp dragster. Says Furr, "It's a great feeling to show up at the track knowing our race cars can run the number."
The family-oriented race team pairs the Ohio Crankshaft engines with Quick Fuel carburetors, an Aeromotive fuel pump, Moroso plug wires and pans, with a Digital Delay 500 topped by the new K&N carbon fiber hood scoop and filter. Power comes from Turbo Start 16v batteries and Power Master alternators paired with PTC converters, Alto Red Eagle transmission components and a Moser rear end and axles. The rail rides on Good Year tires and uses Hawk Brake Pads, and the power-maker is kept cool with Maradyne High Performance fans.  The winning combination is rounded out by RCI safety equipment, an MSD ignition, AutoMeter gauges and Jegs performance parts, with thanks also going to Smith Bros Pushrods, Nitroplate, Jesel, Melling, Number 1 Stop, Mitone Web Design, Staging Light Graphics, andMotorMilePerformance.com.
"It was so neat because we were all there together," said Furr. "Madilyn and Adiayn, my little Jr. dragster racers, would head to the same spot in the grandstands next to the starting line each round, and all those around them joined in to cheer on their Mom through the final. Adiayn told me that he prayed every round for my win light to come on, and Madilyn would reassure him each round that it did.  I'm proud to say that now they each have a Wally – one pewter from last fall honoring the 60th anniversary of NHRA and one gold for this win.
"I have been blessed with the very best family," Furr continued with a smile. "I have to thank my husband, Rick, to whom I will have been married 25 years this August, and my dad, Ron Privett, for giving me so much support and setting the example for me to follow. Without them, this wouldn't be possible, and to be partnered with the best in the business, the companies that produce the products that will get the job done, gives us peace of mind in performance and makes my job on the track look easy. I can't wait to see what we can do next."
Related Articles
Share
About Author