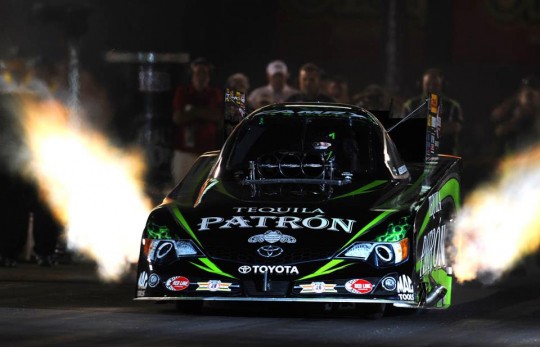 DELRAY BEACH, Fla. (February 19, 2013)— The Kalitta Motorsports Tequila Patron Toyota Camry Funny Car team travels to Phoenix, Ariz. this week in anticipation of the 29th annual NHRA Arizona Nationals, the second event of the 2013 NHRA Mello Yello Drag Racing Series.
With just four days in between races, the Patron team packed up shop in Pomona, Calif. yesterday after qualifying in the No. 10 spot at the season-opening NHRA Winternationals this past weekend. Despite encountering a few mechanical issues throughout the first event, Team Green feels pleased with the car's performance overall and hopes to see their hard work translate into success on the race track this weekend in Phoenix.
"I feel good going into Phoenix even though we had issues at Pomona," said the team's driver, Alexis DeJoria, now in her second season as a nitro Funny Car pilot, and eighth season as an NHRA competitor. "At least we found the problems and fixed them. Overall, we've been making it down the track. This is a process and it takes time to build a new tune-up. I feel confident in my team's abilities to perform very well this season."
With the black and green Toyota Camry making nearly 20 successful passes down the track during winter testing last month, veteran crew chief Tommy DeLago feels confident in the current tuning strategy. "We think we see that there is a way to make this car have a bigger window of opportunity as far as being even more consistent than how it was in testing. Unfortunately, it showed its head a little bit this past weekend in Pomona when it got a little warmer out than what we had seen in testing, which made it a little finicky, but I feel good about the plan we have in place."
When asked about what he anticipates conditions to be like this weekend, DeLago answered, "You never know what conditions you're going to find in Phoenix. Some years it's really good and you can lean on it and run some good ET's, but it's one of those places that you don't really know what to expect until you actually get there. The good news is, we know what the issues were in Pomona and we are able to fix them, so we should have no problem getting down the track this weekend. From there, we will focus on making the car go faster and being more competitive."
Alexis DeJoria and the Kalitta Motorsports Tequila Patron Toyota Camry Funny Car team compete this weekend at the 29th annual NHRA Arizona Nationals in Phoenix, Ariz. Prior to the weekend, DeJoria will be making an appearance at Loco Patron Mexican Grill in Tempe, Arizona on Thursday, February 21st, 5PM-6:30PM. The event is free and open to the public. For more information, please visit www.alexisdejoriaracing.com
TV Schedule
Qualifying
February 24th, 1AM-2:30AM EST
February 24th, 8AM-9AM EST (re-air)
ESPN2
Eliminations
February 24th, 8PM-11PM EST
ESPN2
About Alexis DeJoria
Alexis DeJoria, daughter of the famed John Paul DeJoria, co-founder of John Paul Mitchell Systems and proud owner of Tequila Patron, is a professional NHRA race car driver, competing in the nitro Funny Car class on the Kalitta Motorsports team. She is their second nitro Funny Car driver and fourth member of the team. Alexis drives a Tequila Patron-sponsored 2013 Toyota Camry. Alexis, who had all the opportunity in the world to pursue any type of career, felt strongly about following her passion, and her need for adrenaline drove her to pursue the unlikely profession of auto-racing. The determination to 'blaze her own trail' continues to drive her and push her to higher levels in male dominated sport of drag racing.
About Kalitta Motorsports
Based in Ypsilanti, Mich., Kalitta Motorsports is a Top Fuel and Funny Car drag racing team in the NHRA (National Hot Rod Association) Mello Yello Drag Racing Series. The team was founded and is owned by drag racing icon Connie "the Bounty Hunter" Kalitta. For more than 50 years, Connie has been involved in the sport as a driver, tuner, and an owner. Kalitta Motorsports is one of the most successful teams in the history of auto racing with five world championships and over 50 national event titles in five different professional drag racing sanctioning bodies since it was established by Connie in 1959.
Related Articles
Share
About Author