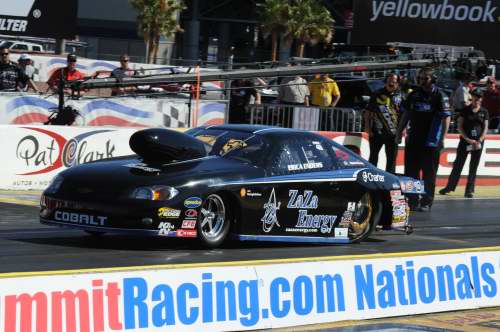 HOLLYWOOD, Calif. (Nov. 15) – Erica Enders always knew her ZaZa Energy Pro Stock team was the hardest-working crew in the NHRA pit area. Now, she has tangible proof.
Enders' crew was voted as winner of the Full Throttle Hard-Working Crew Award in the Pro Stock category, getting the nod in a fan vote on NHRA.com over the teams of Jason Line, Kurt Johnson and Vincent Nobile.
Enders' Cagnazzi Racing team joined her on stage at the 2011 NHRA Full Throttle Drag Racing Series awards ceremony Monday night at the Grand Ballroom at the Hollywood and Highland Center to accept the award. The team also earned $15,000.
Members of the ZaZa Energy team, led by owner Victor Cagnazzi and crew chief Dave Connolly, are Todd Bevis, Danny Burke, Rich Saulino, Mike Smothers, John Utt and John Wright.
"They are the hardest-working crew, with or without the trophy," Enders said. "But it just goes to show that hard work really does pay off. These guys spend so much time away from their wives and their kids and their families – all because we have the same love for drag racing. I couldn't be more proud of them.
"They mean the world to me. I love them with all my heart. They're the reason why I'm where I'm at today, and the reason why I got to stand on the stage for the first time in my career. It means the world to me that they worked their butts off for this team."
Enders had her best season as a professional, finishing sixth in the Pro Stock standings and setting career bests for final rounds (three), semifinals (four), quarterfinals (11), No. 1 qualifiers (two) and won-loss record (28-22).
The award was given to a team in each of the four NHRA pro categories, with a fan vote determining the winner. This was the second time Enders claimed a vote of the fans, as she won a spot in the K&N Horsepower Challenge thanks to the fans.
"It also goes to show that we have the greatest fans in the whole sport," Enders said. "We were the only team on the ballot that hadn't won a race or a championship. It just goes to show that the fans really stand behind us. I have to thank them just as much as I thank my crew. It means a lot to me."
In true hard-working fashion, Enders' team slowed down only for one night to celebrate, for the crew will be hard at work preparing for 2012.
"The hardest-working crew in the world is going back to work Tuesday," Enders said, "and we're going to come out swinging next year."
–30–
Contact: Lee Montgomery at 704-258-0903 or lee.montgomery@zazaenergy.com.
Please visit www.ZaZaEnergy.com for more information.
Photo Courtesy of http://dragracecanada.com
Related Articles
Share
About Author