Firstly, I will introduce myself – I am Sarah Burgess of BMI Racing, along with my husband I own the RX8 4 Rotor that competed in the Formula Drift series last year.  Female Racing News has given me the opportunity to cover the first round of Formula Drift from a different perspective.
Similar to any other motorsport, it is mainly a male dominated sport, and always there are a few diamonds in the rough.  While there are currently no professional female drifters out there competing, there are quite a few women in the background; I had the great opportunity of seeing these great ladies every month last year at each round of Formula Drift.  So I thought it would be great to highlight some of these pretty cool, hard working girls.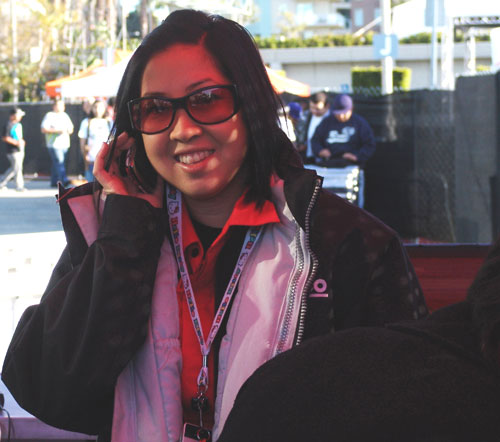 Casidi Tanaka Fixmer has one of the toughest jobs in Formula Drift; her title is Operations Co-coordinator – what does that mean? She is responsible for ensuring everything happens – and within a timely manner.  From dealing with drivers and team owners, organizing logistics, sending out notifications to all the teams and staff (and I have received those emails at 3 o'clock in the morning sometimes), to being in attendance at the Will Call desk all weekend and dealing with everybody's crisis.  Amazingly she stays cool, calm and collected.  Unfortunately I didn't get a chance to speak with her this weekend, but I hear she too also drifts (or has drifted in the past).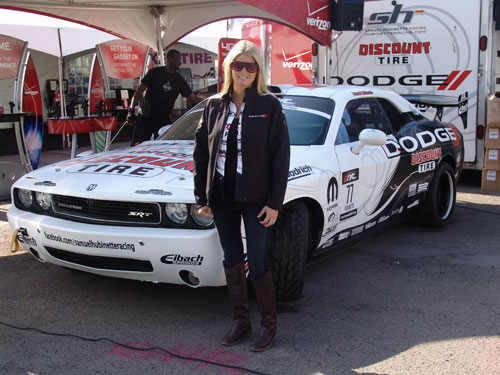 Next on my list is Stina Hubinette, wife of the crazy Swede Sam Hubinette.  Stina takes on the responsibilities of running around and organizing various things, including website design, handling the accounting and logistics, she attends each of the Formula Drift drivers meetings as Stina is also Sam's spotter when he is competing at these events.
Stina also gets behind the wheel of a car, and has competed in Time Attack events, the Thunder Hill 25hr Endurance Race (with Sam), and she also provides precision driving for television commercials.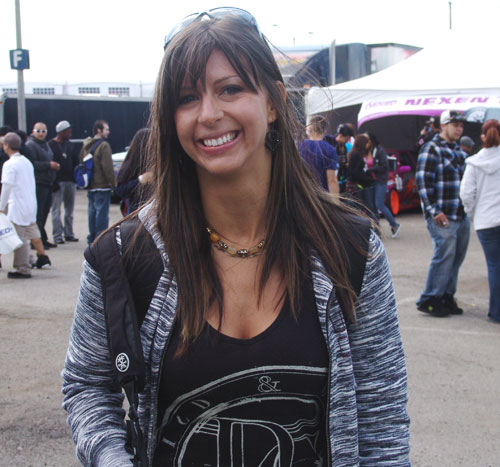 Abigail Baker is not only busy keeping the 2010 Formula Drift Champion in check, but she is also the Communication Manager for Vaughn Gitten Jr Motorsports and the Public relations/media management/social media specialist for Team Need For Speed.  At each of the Formula Drift events you'll see Abigail typing furiously away at her laptop, arranging media people for interviews and photographs for the guys at Team Need For Speed, and many other things that keep her on her feet.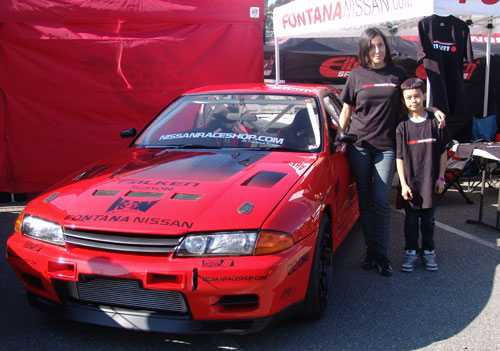 While walking through the pit/vendor area of Formula Drift, I had the chance of meeting Kerryann ……. She has a Nissan R32 with a RB26 engine, which is something rare here in the USA, but a common sight in Australia (the car that is) Kerryann grew up around cars, and ten years go decided to take her Honda drag racing – well, the bug had bitten her and from there she has spent her time trying various types of racing, modifying a range of cars, and currently settling on her current Nissan.  At the moment Kerryann is running the in Time Attack, and over time she will increase the cars performance in the pursuit of faster times.
This is just a handful of the great women I get to meet every time I go to the track.  Even if their not physically working on the car or behind the scenes, they are there giving support any way they can to their husbands and boyfriends.  Its one of the small things that keeps this industry going.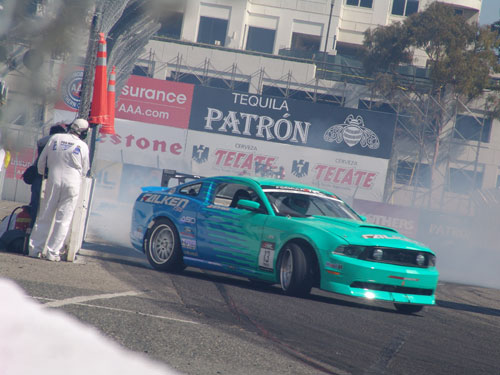 On an end note, the first round of Formula Drift 2011 was won by Justin Pawlak in his Falken Tires Ford Mustang. This was Justin's first win in his career of competing in Formula Drift, followed with the ever popular Matt Powers and his Need For Speed Nissan S14, with Dai Yoshihara in his Discount Tire S13 finishing third.
The next round for Formula Drift heads to the ever popular track in Atlanta, GA, May 6-7 (That's right Mothers Day!!) For more information on the Formula Drift Championship Series be sure to check out their website http://www.formulad.com/
Big thanks to Amanda at Female Racing News for this great opportunity and everybody for giving me their time for a quick chat.  I'm looking forward to writing more for the website in the near future, as my role changes in BMI Racing from working on the car to getting in behind the wheel.
Related Articles
Share
About Author