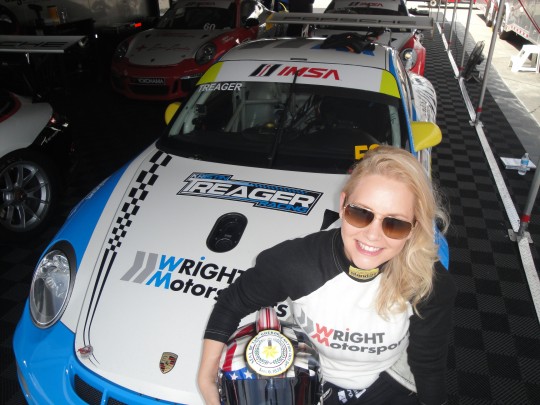 Two words. The Corkscrew. If you are a racing fan, you know the track to which I am referring. Rounds 3 and 4 of the IMSA GT3 USA series took place at the famous Mazda Raceway Laguna Seca in beautiful Monterey, California. Laguna Seca is Spanish for "dry lake" which incidentally explains the nature of the track itself; very, very dusty. Front end grip is hard to come by and the track is mentally exhausting. With 11 turns and only 1 major straight away, your mind never gets a chance to rest. Not only that, but the track is a series of low speed turns. For a driver that tends to overcharge entires, it can be a drain to reel you
A solid qualifying session is imperative a Laguna Seca. Why? Because passing is a challenge at this track. There is only one major braking zone (the Andretti Hairpin) in which to overtake another car; arguably two if you count turn 11. Most of the other turns are too narrow to afford a good opportunity to pass. So with this in mind, I proceeded to my qualifying session with my game face on. I did not want a repeat of Sebring where I flat spotted my tires, but I absolutely had to knock out 2 fast lap times (the fastest time is used for Race 1 and the second fastest is used for Race 2). I went out for "quali" as we racers call it and tried to get into a rhythm. I was fast but not where I wanted to be. I pit, my mechanic bleeds the tire pressures, and I go out to give it one final push. In the last few laps in the short 20 minute qualifying session, I managed to qualify in P3 for Race 1 and P2 for Race 2. It is not the pole position, but it is pretty darn close.
Race day arrives and I am good to go. Car ready? Check. Review data? Check. Stretch? Check. Listen to hip hop jams? Check. Race 1 was disappointing. It is always a let down to start out with a podium position only to lose it in the race. Inches separate me from the P2 car in Gold for several laps. I started to overcharge the turns which resulted in massive understeer. P4 slid by in the Andretti Hairpin as I was struggling with getting the car to rotate. In an effort to regain this position I ended up spinning in Turn 11 and falling back to P6. Now I am pissed. I had a podium spot, lost it, and now I am back even further. So I hunkered down and focused. I regained P5 then P4 and finished the race in P4. I credit my crew chief, Brandon, for keeping me calm and focused during my battle back to P4. I was not happy but at least I gained points towards the championship.
Ideally, Race 1 and Race 2 would be on different days. But at this venue it was the same day. Knowing this, I think many of the drivers held back in their aggression. I knew Race 2 would have a lot more contact. I was not wrong. For this race I started in P2. When the green flag dropped, one of my Wright Motorsports teammates was shoved into the outer pit lane wall. I took the opportunity to go far right, avoid the carnage, and made the pass for P1 in Gold. After a little wheel to wheel rubbing, I jumped in front of some Platinum cars as well. I lead the race in the Gold division for several laps. And then…I caught up to Platinum back traffic. Normally I am a wiz in traffic, but Laguna is not an easy place to make a move. At one point I got sandwiched in between 2 Platinum cars; meanwhile there go P2 and P3 around the mess and out in front. Four letter word expletives ensued. A couple of Platinum spinners shook up the mix some more. When the race ended, I found myself in P4…AGAIN. Shaking my head…
My narrative above probably sounds like list of excuses. Make no mistake, 4th place is on me. No one is responsible for those poor finishes but me alone. It was this realization that lit a fire under me. I have never been more motivated to refine my race craft and really knuckle down at the next race. All I have to say is, "I am coming for you guys at Lime Rock!!!"
By: Kristin Treager, 2013 PCA GTC4 National Champion
Related Articles
Share
About Author