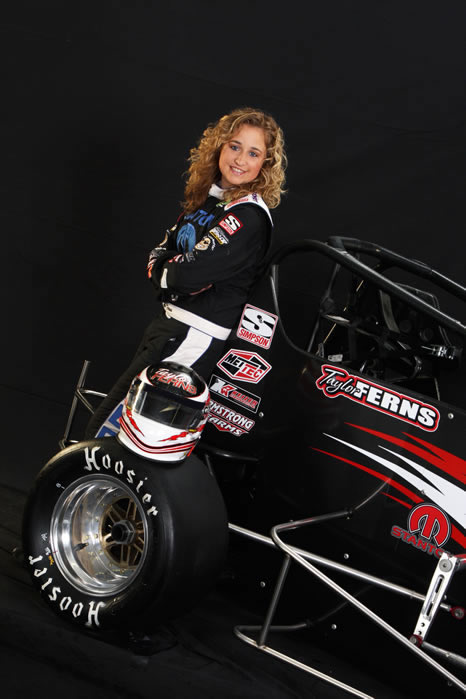 Crown Point, Indiana (May 22, 2012)
Michigan native, Taylor Ferns, embarked on her third feature race in the JEGS/CRA All Stars Tour at Illiana Motor Speedway Saturday, May 19. The ambitious driver of the #76 Dea Eyewear/eBay Motors/Brella Sports Group Lorz Motorsports Dodge had the intriguing challenge of a one day show. She took the challenge head on, as she confidently began her practice session, qualifying laps, and feature race all in the same day. Crew chief Dan Lorz said, "We made a lot of progress today. Taylor gave us great feedback today, and we kept moving forward."
Illiana Motor Speedway has had over 50 years to perfect its mystique. The half mile oval is a well cherished track in the community as fans gathered for the Saturday night race.
 Ferns confidently began the Lisa Thomas Salon 100 in 26th position after she qualified against a field of 29 cars. Ferns knew the challenges ahead, but persevered through the doubt as she began the race with flair. The #76 Dea Eyewear/eBay Motors/Brella Sports Group Lorz Motorsports Dodge took no prisoners as she began passing cars; with the checkered flag as her motivation. Ferns was showing strong promise as a contender until clutch problems struck the team mid race. The car was parked while the race carried on, as Ferns showcased her positive sportsman like attitude for the rest of the race. The night was ended with a 22nd place finish. Ferns said, "The car was so stout during the feature race, I was so excited. We were so fast at the beginning of the race. We were passing cars left and right. The clutch was just going bad throughout the whole feature. Over all, we improved all night long. The team over came all our hurdles, and was fast during the feature. It is disappointing that we bad luck with the clutch. We'll move on and learn from it."
The unfortunate events that plagued Ferns and the Lorz Motorsports team are always un-welcome in any racing situation. The team held together and took the stand of leading by example, as they showcased the true meaning of sportsman like behavior and being a role model. Team owner Mike Lorz added, "I am glad we made the race. We started off great, and made a lot of changes before the race. The car felt really good, and thought we had an opportunity for a top finish. The clutch was unfortunate, but it was a part failure. There was not a whole lot we could have done, but will have it sent off and replaced."
Ferns will continue her season Saturday, May 26 at Columbus Motor Speedway for the JEGS/CRA All Stars Tour Coughlin Cars 100. Ferns said, "I look forward to racing at Columbus Motor Speedway. The team continues to improve each week, and I know it will be a great weekend."
Ferns said, "I'd like to thank my sponsors for the 2012 race season. I'm excited for Dea Eyewear, their line of sunglasses are coming to Wal Mart towards the end of summer.  Also, thank you to my sponsors, eBay Motors and Simpson Race Products. I am proud to be sponsored by such great companies and also look forward to the 2012 race season with All Star Performance, Butler Built Seats, Lansing Sanitary Supply (LSS), and Race4Girls. I am excited for the 2012 season and know it will be great!"
Follow Taylor Ferns and Lorz Motorsports on their social media pages!
Related Articles
Share
About Author