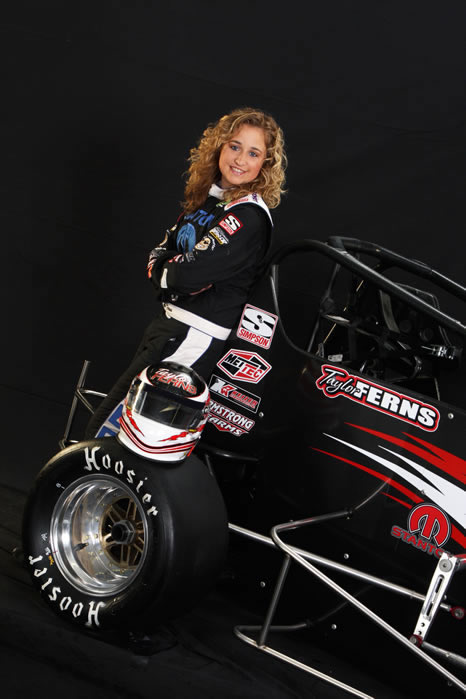 Shelby Township, Michigan (May 25, 2012)
Michigan native, Taylor Ferns, continues in her JEGS/CRA All Stars rookie season as she makes her way to Columbus Motor Speedway. Ferns said, "I'm really excited about getting back in the car. We have had a string of bad luck. I am hopeful that we can turn things around, and have a great weekend."
Ferns is no stranger to Columbus Motor Speedway. She has previously competed on the one-third mile paved oval. Ferns added, "Columbus is a great track to race. It is a lot of fun, and I am looking forward to racing this weekend."
Columbus Motor Speedway is a well-known track, nestled in the heart of Columbus, Ohio. The track has accumulated a lifetime worth of motorsport history. Born in 1945, Columbus Motor Speedway has grown with the surrounding community, and been nurtured and cared for over the years.
The speedway will play host to the Saturday, May 26 Coughlin Cars 100 presented by JEGS, with the feature race to start at 7:00 P.M. A one day show, fans will indeed be rewarded with an action packed day sure to keep them on the edge of their seat.
Team owner Mike Lorz added, "I am looking forward to Columbus this weekend. This is a one day show, but we know what we need to do. I am confident in our team." Mike Lorz has also raced at Columbus Motor Speedway in years past, and will be able to offer strong insight for Saturday's race.
Ferns said, "I'd like to thank my sponsors for the 2012 race season. I'm excited for Dea Eyewear, their line of sunglasses are coming to Wal Mart towards the end of summer. Also, thank you to my sponsors, eBay Motors and Simpson Race Products. I am proud to be sponsored by such great companies and also look forward to the 2012 race season with All Star Performance, Butler Built Seats, Lansing Sanitary Supply (LSS), and Race4Girls. I am excited for the 2012 season and know it will be great! "
Support the #76 Dea Eyewear/eBay Motors/Lorz Motorsports Dodge as they go head to head for the checkered flag at Columbus Motor Speedway on Saturday, May 26.
Follow Taylor Ferns and Lorz Motorsports on their social media pages!
https://twitter.com/#!/TaylorFerns http://www.facebook.com/pages/Taylor-Ferns/116543998373?ref=ts http://www.lorzmotorsports.com/2011
Related Articles
Share
About Author